Catalogs

>

Perfect Laser online flying co2 laser marking machine PEDB-500A
Catalog excerpts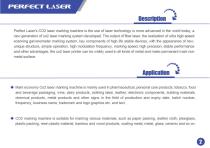 Perfect Laser's C02 laser marking machine is the use of laser technology is more advanced in the world today, a new generation of co2 laser marking system developed. The output of fiber laser, the realization of ultra high speed scanning galvanometer marking system, key components of high life stable devices, with the appearance of new, unique structure, simple operation, high modulation frequency, marking speed, high precision, stable performance and other advantages, the co2 laser printer can be widely used in all kinds of metal and make permanent mark non metal surface. ♦ Mark economy...
Open the catalog to page 2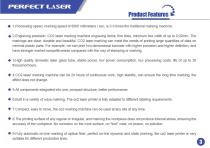 Product Features * ♦ 1 .Processing speed, marking speed of 8000 millimeters / sec, is 2-3 times the traditional marking machine. + 2.Engraving precision: C02 laser marking machine engraving items, fine lines, minimum line width of up to 0.02mm. The markings are clear, durable and beautiful. C02 laser marking can meet the needs of printing large quantities of data on minimal plastic parts. For example, we can print two-dimensional barcode with higher precision and higher definition, and have stronger market competitiveness compared with the way of stamping or marking. ♦ 3.High quality...
Open the catalog to page 3
Samples Perfect laser (Wuhan) Co., ltd. Email: info@perfectlaser.net Tel: 0086-27-86791986 Fax: 0086-27-86775865 Address : HengRuiChuangZhi Technology Park,No 13 YangQiaoHu Road, Jiangxia Dist,Wuhan, China www.perfectlaser.net
Open the catalog to page 5
All Perfect Laser Co. catalogs and technical brochures

Archived catalogs

Compare up to 10 products