Catalogs

>

PE-W300G
Catalog excerpts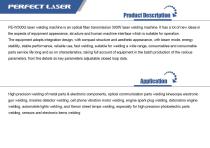 PE-W300G laser welding machine is an optical fiber transmission 300W laser welding machine. It has a lot of new ideas in the aspects of equipment appearance, structure and human machine interface which is suitable for operation. The equipment adopts integration design, with compact structure and aesthetic appearance, with beam mode, energy stability, stable performance, reliable use, fast welding, suitable for welding a wide range, consumables and consumable parts service life long and so on characteristics, taking full account of equipment in the batch production of the various parameters,...
Open the catalog to page 2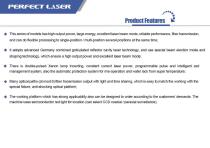 ♦ This series of models has high output power, large energy, excellent laser beam mode, reliable performance, fiber transmission, and can do flexible processing to single-position / multi-position several positions at the same time; ♦ It adopts advanced Germany combined gold-plated reflector cavity laser technology, and use special beam election mode and shaping technology, which ensure a high output power and excellent laser beam mode; ♦ There is double-pulsed Xenon lamp incenting, constant current laser power, programmable pulse and intelligent zed management system, also the automatic...
Open the catalog to page 3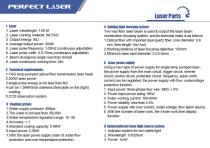 t Laser 1 .Laser wavelength: 1.06 M 2 .Laser working material: Nd:YAG 3 .Output energy: 80J 4. Average output power: 300W 5 .Laser pulse frequency: 1-50Hz (continuous adjustable) 6. Laser pulse width: 0.5-15ms (continuous adjustable) 7 .Beam divergence angle: less than 8mrad 8 .Laser continuous working time: 24h 2 Technical requirements: 1 .YAG lamp pumped optical fiber transmission laser head 2.300W laser power 3 single pulse energy is not less than 80J 4 can be 1.5MM thick stainless steel plate on the (fight) welding 5.CCD observation system 3 Cooling system 1 .Water supply pressure:...
Open the catalog to page 5
All Perfect Laser Co. catalogs and technical brochures

Archived catalogs

Compare up to 10 products