Catalogs

>

SPD-Dual-Screen-Printer
Catalog excerpts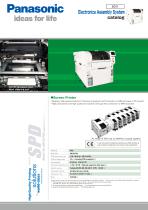 Electronics Assembly System Mask cleaning .unit •Screen Printer •Realizing "High-speed production","Nonstop changeover'and "Production of different types of PC boards". •High productivity and high quality line solutions through the connection to NPM dual lane An image of SPD and six NPM-Ds coupled together * It may not conform to Machinery Directive and EMC Directive in case of optional configuration and custom-made specification. 'Values such as cycle time and accuracy may vary depending on operating conditions. "Please refer to the "Specification booklet" for details. *1: PCB exchange time varies depending on the machine in the pre-process and the post process, the PCB size, the use of a PCB pressing-down unit and so forth. *2: For mask specifications, please see the specification. *3: Including blower and vacuum pumpnOption" *4: Except for the signal tower and the touch panel. *5: Excluding options, etc.
Open the catalog to page 1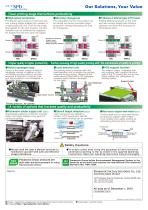 I Dual printing stage that furthers productivity Our Solutions, Your Value •High-speed production Printing the same product on the front and rear printing stages enables the creation of a high-production line. Even for the single lane applied for the post process, the lane utilization can be enhanced by supplying PC boards from the front and rear stages. •Nonstop changeover The preparation for the next product can be carried out during one-sided stage production, thereby eliminating the time •Production of different types of PC boards Printing different products on the front and rear...
Open the catalog to page 2
All Panasonic Factory Automation Company catalogs and technical brochures

Archived catalogs

Compare up to 10 products