Catalogs

>

MD-P300
Catalog excerpts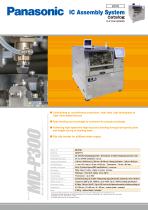 2015 1C Assembly System catalog FLIP CHIP BONDER • Contributing to cost-effective production ( high yield, high throughput) of high value-added devices • Easy bonding tool exchange by customer for process exchange • Achieving high-speed and high-accuracy bonding through low-gravity point and weight saving of bonding head • Flip chip bonder for $300mm wafer supply *1:The described productivity and placement accuracy may differ depending on the conditions of use. *2:Maximum setting temperature differ depending on the maximum substrate size. Please contact us individually. *3:3-phase 208 / 220 / 380 / 400 / 415 / 480 For details, please refer to the specification sheet.
Open the catalog to page 1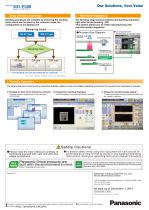 Easy process exchange Real-time Inspection Bonding processes are available by switching the bonding tools, which can be done by the customer under the configuration of C4 dipping unit. Bonging load 50 N Type The Bonding stage camera enables post-bonding inspection right after the die bonding. (OP) This system allows you to realize manufacturing with real-time quality-inspection. 3 ●Process flow Diagram Bonding stage camera Bonding tool ●Auto production Screen Example display of inspection results ①Recognition of bonding position ②Die bonding ③Post-bonding inspection Pitch-by-pitch movement...
Open the catalog to page 2
All Panasonic Factory Automation Company catalogs and technical brochures

Archived catalogs

Compare up to 10 products