Catalogs

>

JV131
Catalog excerpts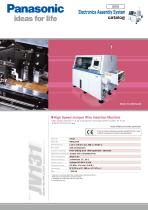 Electronics Assembly System • High Speed Jumper Wire Insertion Machine •High speed insertion of 0.08 s/component and high speed transfer for much greater productivity.(Note) (Note) JVK3B commonality specification * It may not conform to Machinery Directive and EMC Directive in case of optional configuration and custom-made specification. * Values such as maximum speed may vary depending on operating conditions. * Please refer to the "Specification" booklet for details.
Open the catalog to page 1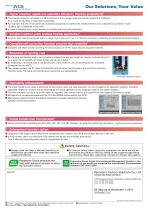 Our Solutions, Your Value Higher insertion speed and operation efficiency improve productivity* The insertion speed is increased to 0.08 s/component with a single head and transfer speed to 2.0 s/board. As a result, productivity is improved dramatically. 9 For example, the JV131 has achieved increased productivity by lowered the insertion time by 2.5, compared to our former model 9 In case of insertion error, quick recovery is possible with one touch operation. 9 Insertion pitch setting can be set within a range from 5 mm to 31 mm in 1/100 mm increments, according to printed circuit board...
Open the catalog to page 2
All Panasonic Factory Automation Company catalogs and technical brochures

Archived catalogs

Compare up to 10 products