Catalogs

>

Combination heat detector 4318
Catalog excerpts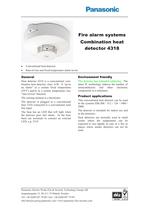 Panasonic Electric Works Fire & Security Technology Europe AB Jungmansgatan 12, SE-211 19 Malmö, Sweden Tel: +46 (0)40 697 70 00 • Fax: +46 (0)40 697 70 99 info-fste@eu.pewg.panasonic.com • www.panasonic-fire-security.com Fire alarm systems Combination heat detector 4318 • Conventional heat detector • Rate-of-rise and fixed temperature alarm levels General Heat detector 4318 is a conventional combination heat detector, class A1R. It "gives an alarm" at a certain fixed temperature (59°C) and/or at a certain temperature rise, "rate-of-rise" function. The sensing element is a thermistor. The detector is plugged in a conventional base 2324 connected to a conventional zone line input. The base has an LED that will light when the detector goes into alarm. In the base there are terminals to connect an external LED, e.g. 2218. Environment friendly The detector has unleaded soldering. The latest IC technology reduces the number of semiconductors and other electronic components to a minimum. Product applications This conventional heat detector can be used in the systems EBL500 / 512 / 128 / 1000 / 2000. The detector is intended for indoor use and in dry premises. Heat detectors are normally used in small rooms where the temperature can be expected to rise rapidly in case of a fire or places where smoke detectors can not be used.
Open the catalog to page 1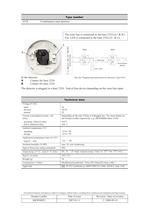 All technical features and data are subject to changes without notice, resulting from continuous development and improvement. Product Leaflet Date of issue Revision / Date of revision MEW00852 2007-01-11 3 / 2008-09-18 Type number 4318 Combination heat detector Zone line Ext. LED End-of-line device C.i.e. EBL512 / EBL128 / EBL500 Zone line input + - + Mark Mark A+ B- L BA+ A+ B- L BA+ In the detector: See also "Engineering Instructions for detectors Type 435x". A Contact for base 2324 B Contact for base 2324 The detector is plugged in a base 2324. End-of-line device depending on the zone...
Open the catalog to page 2
All Panasonic Electric Works Europe catalogs and technical brochures

Archived catalogs

Compare up to 10 products