Catalogs

>

Fortis 35 Speciale
Catalog excerpts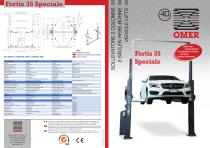 LU CO Z h-~ X LU OMER DATITECNICI / TECHNISCHE DATEN / TECHNICAL DATA Option Collegamento inferiore Verbindung der Hydraulik auf dem Boden Lower connection < > LU Fortis 35 Adatto per veicoli elettrici For electrical vehicles Auch fur Elektro-Fahrzeuge SOLLEVAMENTO TECHNISCHE DATEN LIFTING O co Speciale OMER O.ME.R. Spa Via G. Galilei, 20 30035 Mirano Venezia ITALY Tel. ++39 041 5700303 Fax++39 041 5700273 E-mail: info@omerlift.com www.omerlift.com I ponti OMER sono omologati ed approvati dai maggiori enti di controllo internazionale. Ogni violazione dei diritti della OMER sara perseguita a norma di legge. Ogni dato tecnico esposto nel presente catalogo e soggetto alle modifiche che la casa costruttrice si riserva di apportare in qualunque momento senza preavviso e senza alcuna responsabilita ed obbligo a carico della O.MER Alle Hebebuhnen der O.ME.R S.p.a sind von international anerkannten Prufstellen abgenommen und zertifiziert worden und entsprechen der Neuen Verordnung 1493. Die Firma O.ME.R s.p.a behalt sich das Recht vor technische Veranderungen ohne vorherige Ankundigungen vorzunehmen. ISO -Zertifiziertes Unternehmen nach ISO 9001/ UNI EN ISO 9001:2008 OMER lifts are homologated or approved by the major international controlling bodies. Any violation of OMER's rights shall be prosecuted according to law. The manufacturer reserves the right to change the products pecifications without notice and liability.
Open the catalog to page 1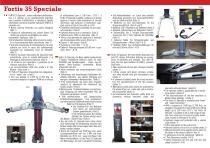 Fortis 35 Speciale * Tutte le sicurezze meccaniche ed idrauliche sono automatiche, prive di schede elettroniche e di leveraggi di azionamento manuale. (foto 2) * La sicurezza per I'operatore e garantita da un sistema meccanico (foto 2) * La sincronizzazione delle due spalle e di tipo Master -Slave (foto 1) * II Fortis 35 Speciale e disponibile con collegamen-to sia " aereo" che "a terra". * Con una portata di 3.500 kg (7.700 lbs), un consumo energetico di appena 3 KW ed un altezza ■ ■ FORTIS 35 Speciale , nuovo sollevatore elettroidrau-lico a 2 colonne, le cui caratteristiche distintive...
Open the catalog to page 2
All O.ME.R. SpA catalogs and technical brochures
Compare up to 10 products