Catalogs

>

OMEGA

>

Non-Contact Infrared Thermometer/Transmitter OS555A Series
Catalog excerpts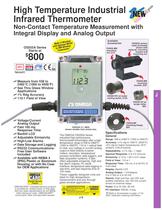 J-X High Temperature Industrial Infrared Thermometer Non-Contact Temperature Measurement with Integral Display and Analog Output OS555A Series Starts at $800 Measure from 538 to 2482°C (1000 to 4500°F) See Thru Glass Window Applications 1% Rdg Accuracy 110:1 Field of View The OMEGA OS555A Series industrial high performance thermometer/transmitters offer a high temperature range of 538 to 2482ºC (1000 to 4500ºF), 110 to 1 optical field of view, any voltage or current analog output to feed directly to panel meters, recorders, temperature/ process controllers, data loggers, and data acquisition systems. It also offers adjustable emissivity, high and low alarm outputs, PC serial interface, temperature data logging in real-time, and fast response time of 100 msec. These ruggedly designed units are ideal for high temperature measurement and see through glass window applications. LASER RADIATION - DO NOT STARE INTO BEAM LASER RADIATION DO NOT STARE INTO BEAM OR VIEW DIRECTLY WITH OPTICAL INSTRUMENTS. CLASS 2 LASER PRODUCT. MAX. OUTPUT 1mW, WAVELENGTH 630-670 nm, CLASS II (2) LASER PRODUCT. COMPLIES WITH FDA 21CFR 1040.10 ® CAUTION AVOID EXPOSURE. LASER RADIATION IS EMITTED FROM THIS APERTURE OS555A sensor head (included) shown with optional, mounting bracket and mounting nut. OS550-WC air/water cooling jacket, $195. OS550-MF mounting flange, $65. Available Accessories OS550-MN mounting nut, $15. OS550-MB mounting bracket, $35. Extended Warranty Program SM OMEGACARESM extended warranty program is available for models shown on this page. Ask your sales representative for full details when placing an order. OMEGACARESM covers parts, labor and equivalent loaners. Optional†† Specifications General Range: 538 to 2482°C (1000 to 4500°F) Accuracy: ±1% rdg to 1093°C (2000°F); ±2% rdg for higher temperatures; 25°C ambient, 0.95 emissivity Repeatability: ±(1% rdg + 1 digit) Spectral Response: 2 to 2.5 microns Emissivity: 0.10 to 1.00 in 0.01 steps Field of View: 110 to 1 Response Time: 100 ms, 0 to 63.5% of final value Display: Backlit LCD Analog Output: 1 mV/degree, 0 to 5 Vdc or 4 to 20 mA Alarms: High and low; red LED and audible indicators; two 100 mA current drives for external relays Power: 8 to 24 Vdc, 80 mA PC Interface: RS232, 2-way Make it Wireless with Optional RS232 to USB Wireless Transceiver! OS550-AP air purge collar, $65. OS555A-V1, $850, shown smaller than actual size. J Voltage/Current Analog Output Fast 100 ms Response Time Backlit LCD Adjustable Emissivity High/Low Alarms Data Storage and Logging RS232 Communications- Free User Software Included Available with NEMA 4 (IP65) Plastic or Aluminum Housing, or with No Case for OEM Applications †† Refer to Accessories on page J-Y for NIST calibration ordering information.
Open the catalog to page 1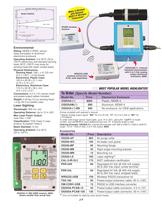 J-Y To Order (Specify Model Number) Model No. Price Electronics Enclosure OS555A-(*) $850 Plastic, NEMA 4 OS555AM-(*) 890 Aluminum, NEMA 4 OS555A-(*)-BB 800 No enclosure, for OEM applications Model No. Price Description OS550-AP $65 Air purge collar OS550-WC 195 Air/water cool jacket OS550-MF 65 Mounting flange OS550-MB 35 Right angle mounting bracket OS550-MN 15 Mounting nut OS550-LS 195 Laser sighting** CAL-3-IR-X†† 175 NIST calibration certification PSR-24S 60 Regulated 24 Vdc @ 400 mA supply, 90 to 264 Vac input, screw terminal PSR-24L 60 Regulated 24 Vdc @ 400 mA supply, 90 to 264 Vac...
Open the catalog to page 2
All OMEGA catalogs and technical brochures

Archived catalogs

Compare up to 10 products