Catalogs

>

OMEGA

>

CSMSTRLE
Catalog excerpts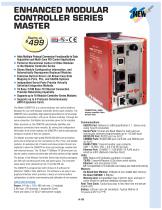 ENHANCED MODULAR CONTROLLER SERIES MASTER Starts at Adds Multiple Protocol Conversion Functionality to Data Acquisition and Multi-Zone PID Control Applications Performs Hierarchical Control of Other Modules in the Modular Controller Series Stores Module Configuration Information, and Automatically Reprograms Replaced Modules Extensive Built-In Driver List Allows Easy Data Mapping to PLCs, PCs, and SCADA Systems Independent Serial Ports Provide Virtually Unlimited Integration Methods 10 Base-T/100 Base-TX Ethernet Connection Provides Networking Capability Supports up to 16 Modular Controller Series Modules Supports up to 9 Protocols Simultaneously (With Expansion Card) The Model CSMSTRLE is a communications and control platform designed for use with Modular Controller Series slave modules. The CSMSTR uses a proprietary high speed serial protocol to communicate, via backplane connection, with up to 16 slave modules. Through the same connection, the Master also provides power to the modules. CSMSTRLE, $499, shown smaller than actual size. Communications: USB/PG Port: Adheres to USB specification 1.1. Device only using Type B connection Serial Ports: Format and Baud Rates for each port are individually software programmable up to 115,200 baud. RS232/PG Port: RS232 port via RJ12 The Master provides high-speed RS232/422/485 communication COMMS Ports: RS422/485 port via RJ45, and RS232 port ports and an Ethernet port for connection to PCs, PLCs, and SCADA via RJ12 systems. An extensive list of master and slave protocol drivers are DH485 TXEN: Transmit enable; open collector, VOH = 15 VDC, VOL = 0.5 V @ 25 mA max. available to allow the CSMSTR to share and exchange variable data Ethernet Port: 10 BASE-T / 100 BASE-TX RJ45 jack is with external devices. The 10 Base-T/100Base-TX Ethernet port can wired as a NIC (Network Interface Card) also be used to connect and share data with other devices at high speeds. LEDs: The design of the Modular Controller Series high density packaging STS: Status LED indicates condition of master. TX/RX: Transmit/Receive LEDs show serial activity. and DIN rail mounting saves time and panel space. The controller Ethernet: Link and activity LEDs. snaps easily onto standard top hat (T) profile DIN rail. CF: Compactflash LED indicates card status and read/write activity The CSMSTR is programmed with Crimson 2.0 software for Memory: Windows® 2000 or later platforms. The software is an easy to use, On-Board User Memory: 4 Mbytes of non-volatile flash memory graphical interface which provides a means of communication On-Board SDRAM: 2 Mbytes configuration, as well as commissioning and calibration of new systems. Memory Card: Compactflash type II slot for type I and type II cards (Used for optional database storage only) SPECIFICATIONS Real Time Clock: Typical accuracy is less than one minute per Power: 24 Vdc ± 10% 400 mA min. (1 module) month drift 3.5A max. (16 modules + expansion Card) Battery: Lithium coin cell (included). Typical lifetime of must use class 2 or SELV rated power supply. 10 years at 25 ºC (77°F) When powered up, the CSMSTR automatically identifies and addresses connected slave modules. By storing the configuration information of all of the modules, the CSMSTR is able to automatically configure modules if they are replaced.
Open the catalog to page 1
Environmental Conditions: Operating Temperature Range: 0 to 50°C (32 to 122°F) Storage Temperature Range: -30 to +70°C (-22 to 158°C) Operating and Storage Humidity: 80% max relative humidity, non-condensing, from 0 to 50°C (32 to 122°F) Vibration According to IEC 68-2-6: 5 to 150 Hz, in X, Y, Z direction for 1.5 hours, 2 g's Shock According to IEC 68-2-27: Operational 25g, 11ms in 3 directions. Altitude: Up to 2000 meters Construction: Case body is burgundy high impact plastic and stainless steel. Installation category I, pollution degree 2 Power Connection: Removable wire clamp screw...
Open the catalog to page 2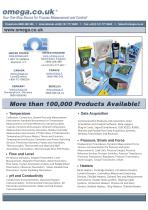 Your One-Stop Source for Process Measurement and Control! UNITED STATES Deckenpfronn, Germany UNITED KINGDOM Manchester, England More than 100,000 Products Available! Calibrators, Connectors, General Test and Measurement Instruments, Handheld Instruments for Temperature Measurement, Ice Point References, Indicating Labels, Crayons, Cements and Lacquers, Infrared Temperature Measurement Instruments, Recorders, Relative Humidity Measurement Instruments, PT100 Probes, PT100 Elements, Temperature & Process Meters, Timers and Counters, Temperature and Process Controllers and Power Switching...
Open the catalog to page 3
All OMEGA catalogs and technical brochures

Archived catalogs

Compare up to 10 products