Catalogs

>

OMEGA

>

CL 355A
Catalog excerpts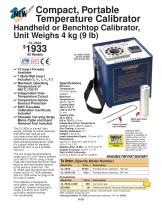 Compact, Portable Temperature Calibrator Handheld or Benchtop Calibrator, Unit Weighs 4 kg (9 lb) CL-355A ߜ 10 Insert Formats Available ߜ 1 Multi-Well Insert Included (1⁄8, 3⁄16, 1⁄4, 5⁄16, 3⁄8") ߜ Maximum Operating Temperature of 400°C (752°F) ߜ Independent OverTemperature Cutout ߜ Temperature Sensor Burnout Protection ߜ NIST-Traceable Calibration Certificate Included ߜ Shoulder Carrying Strap, Mains Cable and Insert Removal Tool Included The CL-355A is a small, lightweight, portable dry block calibrator, that offers fast heat-up and cool-down times with excellent performance specifications at a wide operating temperature range. It's a good choice for standard bench lab work or as a portable field unit. The unit covers the temperature range from 5°C (9°F) above ambient up to 400°C (752°F) using a large multi-well machined aluminum insert block as the heat transfer medium to the sensors under test. The CL-355A uses the same aluminum inserts as the CL-740A calibrator. See CL-700A series on page K-36 for a list of inserts. This calibrator is designed to work safely under the following conditions: ambient temperature range: 5 to 40°C (9 to 104°F), up to 95% relative humidity, non-condensing. CL-355A, $1933, shown smaller than actual size. Specifications Minimum Temperature: 5°C (9°F) above ambient Maximum Temperature: 400°C (752°F) Cooling Rate, 400 to 100°C (752 to 212°F): 21 min Heating Rate, 20 to 400°C (68 to 752°F): 12 min Independent Over-Temperature Cutout: 450°C (842°F) approx Fan Cooling: Automatic Display Resolution: 0.1° Weight: 4 kg (9 lb) Insert Immersion Depth: 114 mm (4.5") Dimensions: 222.25 H x 203.2 W x 203.2 mm D (8.8 x 7.9 x 7.9") Stability After 15 Min: ±0.15°C (0.27°F) Display Accuracy: ±0.6°C (1.1°F) Well to Well Uniformity: 0.015 to 0.025°C (0.027 to 0.045°F) Multi-well insert included. Insert removal tool included. Extended Warranty Program OMEGACARESM extended warranty program is available for models shown on this page. Ask your sales representative for full details when placing an order. OMEGACARESM covers parts, labor and equivalent loaners. AVAILABLE FOR FAST DELIVERY! To Order (Specify Model Number) Model No. CL-355A CL-355A-230 Portable block calibrator, 120 Vac Portable block calibrator, 240 Vac Description Carrying case Reference Book: American Electrician's Handbook Comes complete with operator's manual, multi-well insert, insert removal tool, NIST certificate, and power cord. Ordering Example: CL-355A, portable block calibrator, 120 Vac, $1933.
Open the catalog to page 1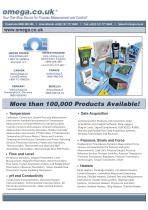 Your One-Stop Source for Process Measurement and Control! UNITED STATES Deckenpfronn, Germany UNITED KINGDOM Manchester, England More than 100,000 Products Available! Calibrators, Connectors, General Test and Measurement Instruments, Handheld Instruments for Temperature Measurement, Ice Point References, Indicating Labels, Crayons, Cements and Lacquers, Infrared Temperature Measurement Instruments, Recorders, Relative Humidity Measurement Instruments, PT100 Probes, PT100 Elements, Temperature & Process Meters, Timers and Counters, Temperature and Process Controllers and Power Switching...
Open the catalog to page 2
All OMEGA catalogs and technical brochures

Archived catalogs

Compare up to 10 products