Catalogs

>

OMEGA

>

8-Channel Thermocouple, mV, V and mA Input USB Data Acquisition Module USB-4718
Catalog excerpts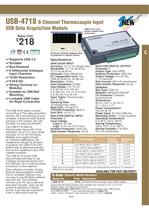 C-1 C USB-4718 8-Channel Thermocouple Input USB Data Acquisition Module Supports USB 2.0 Portable Bus-Powered 8 Differential Analogue Input Channels 16-Bit Resolution 8 DI/8 DO Wiring Terminal on Modules Suitable for DIN-Rail Mounting Lockable USB Cable for Rigid Connection USB-4718, £218, shown smaller than actual size. The USB-4700 series consists of true Plug & Play data acquisition devices. No more opening up your computer chassis to install boardsjust plug in the module, then get the data. It's easy and efficient. The USB-4718 offers 8 thermocouple inputs with 16-bit resolution, up to 0.1% input range accuracy, or 4 to 20 mA Inputs. Reliable and rugged enough for industrial applications, yet inexpensive enough for all types of projects, the USB-4718 is the perfect way to add measurement and control capability to any USB capable computer. The USB-4718 is fully USB plug and play and easy to use. It obtains all required power from the USB port, so no external power connection is ever required. Data collection is simple. Simply plug the data acquisition module into an available USB port and our easy-to-use Windows software does the rest. The software converts your PC into a real-time strip chart recorder. Data can be printed in graphical or tabular format. It can also be exported to a text or Microsoft Excel file. Specifications ANALOGUE INPUT Accuracy: ±0.1% for voltage input Bandwidth: 13.1 Hz @ 50 Hz, 15.72 Hz @ 60 Hz Channels: Eight differential Ch. Independent Conf: Yes CMR @ 50/60 Hz: 92 dB min Resolution: 16-bits Input Impedance: 20 M.. lnput Range: 0 to 15 mV, 0 to 50 mV, 0 to 100 mV, 0 to 500 mV, 0 to 1V, 0 to 2.5V, 0 to 20 mA, 4 to 20 mA lnput Types: Thermocouple, mV, V, mA Sampling Rate: 10 samples/sec (total) Span Drift: ±25 ppm/°C TVS/ESD Protection: Built-in Zero Drift: ±3 ..V/° C ISOLATED DIGITAL INPUT Channels: 8 Input Voltage: Logic 0: 2V max Logic 1: 5V min (30 V max) Isolation Protection: 2500 Vdc Opto-Isolator Response: 25 ..S ISOLATED DIGITAL OUTPUT Channels: 8 Output Type: Sink (NPN) Isolation Protection: 2500 Vdc Output Voltage: 5 to 30 Vdc, 1.1 A max/total Sink Current: 200 mA max/channel Opto-isolator Response: 25 ..S GENERAL Bus Type: USB 2.0 Software: Windows 2000/XP I/O Connector: Onboard screw terminal Dimensions: 80 H x 132 L x 32 mm D (3.1 x 5.2 x 1.3") Power Consumption: 100 mA @ 5V Power Input: 5V from USB line Watchdog Timer: 1.6 sec (system) Operating Temperature: 0 to 60°C (32 to 140°F) Storing Temperature: -20 to 70°C (-4 to 158°F) Storing Humidity: 5 to 95% RH non-condensing To Order (Specify Model Number) Model No. Price Description USB-4718 £218 8-channel thermocouple input USB module Comes with Windows Software and complete user manual on CD, a 1.8 m (6') USB 2.0 cable, and DIN rail mounting kit. Ordering Example: USB-4718, 8-channel thermocouple input USB module, and OMEGACARESM 1-year extended warranty for USB-4718 (adds 1 year to standard 1-year warranty), £218 + 21.50 = £239.50 AVAILABLE FOR FAST DELIVERY! Basic Unit £218 Windows software displays data in graphical or tabular format. Thermocouple Ranges and Accuracy Thermocouple Input Range Typical Maximum Accuracy Error J 0 to 760°C (32 to 1400°F) ±1.0°C ±1.5°C K 0 to 1370°C (32 to 2498°F) ±1.0°C ±1.5°C T -100 to 400°C (-148 to 752°F) ±1.0°C ±1.5°C E 0 to 1000°C (32 to 1832°F) ±1.0°C ±1.5°C R 500 to 1750°C (932 to 3182°F) ±1.2°C ±2.5°C S 500 to 1750°C (932 to 3182°F) ±1.2°C ±2.5°C B 500 to 1800°C (932 to 3272°F) ±2.0°C ±3.0°C Note: Due to the location of the CJC sensor, the measurement will have a 1°C maximum difference in channels.
Open the catalog to page 1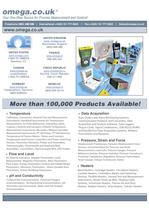 Freephone 0800 488 488 | International +44(0) 161 777 6622 | Fax +44(0) 161 777 6622 | Sales@omega.co.uk www.omega.co.uk More than 100,000 Products Available! CANADA www.omega.ca Laval(Quebec) 1-800-TC-OMEGA UNITED KINGDOM www. omega.co.uk Manchester, England 0800-488-488 GERMANY www.omega.de Deckenpfronn, Germany 0800-8266342 FRANCE www.omega.fr 088-466-342 BENELUX www.omega.nl 0800-099-33-44 UNITED STATES www.omega.com 1-800-TC-OMEGA Stamford, CT. CZECH REPUBLIC www.omegaeng.cz Karviná, Czech Republic 596-311-899 Temperature Calibrators, Connectors, General Test and Measurement...
Open the catalog to page 2
All OMEGA catalogs and technical brochures

Archived catalogs

Compare up to 10 products