Catalogs

>

Series 61A automotive relay
Catalog excerpts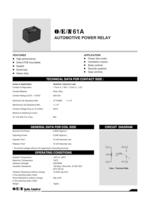 0/E/N61A AUTOMOTIVE POWER RELAY FEATURES High performance Օ Direct PCB mountable Sealed Օ Small size Heavy duty APPLICATION Օ Power door locks Ventilation motors Օ Body controls Security Systems Օ Seat controls TECHNICAL DATA FOR CONTACT SIDE : Areas of Application Contact Configuration Contact Material Contact Rating at 23°C - 12VDC Electrical Life Oprations Min. Mechanical Life Oprations Min. Contact Voltage Drop at 10 A (Min) Maximum Switching Current @ 12.8VDCFor3Sec. R驩sistive / Inductive Load 1 Form A, 1 NO / 1 Form C, 1 CO Silver Alloy 20A/10A 107OHMS 1x105 1 x106 30mV 50A GENERAL DATA FOR COIL SIDE Nominal Coil Power : 0.36W (Approx.) Operating Power : 0.23W (Approx.) Operate Time* : 10 milli Seconds max Release Time* : 10 milli Seconds max CIRCUIT DIAGRAM ' At nominal voltage without coil suppression (excluding bounce) NO r| OPERATING CONDITIONS COIL | Q COM Ambient Tempשrature Maximum Temprature Dielectric Strength Insulation Rsistance Vibration R驩sistance (without change in the switching state>10uS) Shock Rsistance (without change in the switching state>10uS) Weight -40°C to +85°C 125°C 500VRMS 100 Meg. Ohms Min. At 500 VDC, 25°C RH 50 10-50Hz 5g (min) 20g, 6mS 12gms View : Terminal Side Imlin Limitai 4e We make electronics work .
Open the catalog to page 1
HOW TO ORDER COIL DATA 61 xx xx xxx es « "5 > O _ Q |> E o ± g 0- o, * O) a > §8 Q oi > o O co o co fl Q) (0 CC E JZ o O O I_ Specialities if any 4.5 0.6 100 Product S䗩ries L Vacant - Unsealed - E - Sealed 12 1.2 180 Nominal Coil Voltage (Refer coil data) 12 1.2 225 Contact Configuration 1C-1 FormC 24 19 2.4 1600 "Lower pick-up Voltages available on request DRILLING PATTERN DIMENSIONS 16.6max. 5x1.3 0 0.24 2.0 12.2 ) 1 * 1.2 3noT =31 }o H 5 J 4ncl Ijti-rai J,j 2.Q 12.2 22.6 . 0.4 Vent tab on the cover corner should be eut off after PCB cleaning to allow ventilation during opשration....
Open the catalog to page 2
All O/E/N India Ltd. catalogs and technical brochures

Archived catalogs
Compare up to 10 products