Catalogs

>

Wind Analysis
Catalog excerpts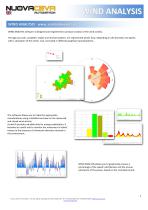 WIND ANALYSIS WIND ANALYSIS www.analisideiventi.it WIND ANALYSIS software is designed and engineered to produce analysis of the wind activity. Through accurate, complete, simple and intuitive pattern, are represented winds' flow, depending on the direction and speed, with a simulation of the winds' rose, recreated in different graphical representations. This software allows you to make the appropriate considerations using a detailed overview on the measured and stored wind activity. As well it provides valuable data for energy exploitation, it becomes an useful tool to monitor the movement of winds' masses in the presence of chemicals elements released in the environment. WIND ANALYSIS allows you to graphically process a percentage of the speed's distribution and the annual estimation of the power, based on the recorded period. 1 Nuova CEVA Automation. Via G.B. Signini 43. Briga Novarese (NO) ITALY Tel. +39 0322 93574 Fax +39 0322 953787 info@nuovaceva.it www.nuovace
Open the catalog to page 1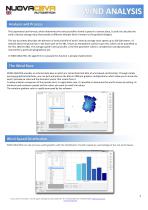 WIND ANALYSIS Analysis and Process The Exponential Law formula, which determines the vertical profile of wind's speed in a certain place, is useful to calculate the wind's velocity average value (horizontal) at different altitudes (from 0 meters to the gradient'sheight). This law accurately describes the behavior of vertical profile of wind's velocity average value speed up to 100-200 meters of altitude above the ground (or in the lower part of the ABL, known as Atmospheric Surface Layer ASL, which can be quantified as the first 10% the ABL). The average speed's vertical profile, is the...
Open the catalog to page 2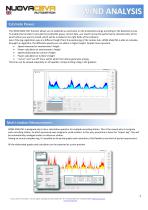 WIND ANALYSIS Estimate Power This WIND ANALYSIS' function allows you to elaborate an estimante on the producible energy according to the detected survey . To enable this function to provide the producible power correct data, you need to know the performance characteristics of the wind turbine you want to install, which will be included in the right fields of the software. Even if the log registration was at a different height from the positioning of the turbine hub, WIND ANALYSIS is able to calculate, throught an algorithm, the differents speeds you can obtain in higher height. Graphic...
Open the catalog to page 3
All NUOVA CEVA Automation catalogs and technical brochures

Compare up to 10 products