Catalogs

>

Ultrasonic cleaning systems for tools prior to PVD coating
Catalog excerpts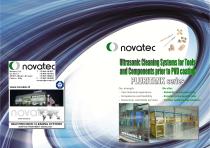 n ovate oS'ii ovate c. it HIGH PRECISION CLEANING SYSTEMS _SUIgftCE TREATMENT TECNOLOGY_I Ultrasonic Cleaning Systems ftr Tools
Open the catalog to page 1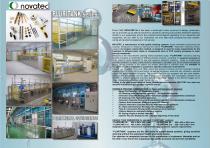 Since 1993, NOVATEC S.r.l. has been a meaningful name, synonym of design, production, set up and start up as well as service for ultrasonic cleaning and surface treatment systems; thanks to our experience and to the constant technological upgrading of our resources and equipment, we can offer to our Customers not only high-value products but also customcaring and prompt competence in full-service. NOVATEC, a manufacturer of high quality cleaning systems, thanks worldwide experiences and success, introduces its ultrasonic cleaning line series "PLURITANK" (Multi-tank machines) which, owing to...
Open the catalog to page 2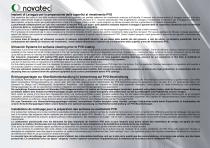 Impianti di Lavaggio per la preparazione delle superfici al rivestimento PVD Una superficie ben pulita è una delle condizioni essenziali per garantire una perfetta adesione del rivestimento antiusura sull'utensile. Il mercato offre diversi sistemi di lavaggio ma non tutti sono all'altezza delle elevate esigenze implicate nelle tecniche di deposito PVD. Novatec S.r.l., marchio specializzato nella progettazione, sviluppo e installazione di macchine per il lavaggio e trattamento delle superfici, propone proprio per quest'applicazione, impianti di lavaggio chiavi in mano, i quali integrano un...
Open the catalog to page 3
All NOVATEC srl - Surface Finishing Technology catalogs and technical brochures

Compare up to 10 products