Catalogs

>

PLURITANK Multi-Tank Cleaning Machines
Catalog excerpts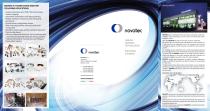 NOVATECS SYSTEMS CAN BE USED FOR FOLLOWING APPLICATIONS: - Surface preparation prior PVD-CVD treatmentand Surface stripping - Automotive, aeronautics and Defence industry - Medical industry (components and orthopaedic - Optical industry and eyewear frames - Watch industry, jewellery, silverware and small - Moulds for plastic, glass and die casting & Industry of Precision Mechanics - Industry of Electrical, Electronic, Semi-Conductorsand customized and specially designed cleaning systems - Treatment finishing for Components and Fittings & Photovoltaic Industry Padova - Italy NOVATEC S.r.l. is a meaningful name, synonymous with design, production, installation and commissioning, as well as service of cleaning and surface treatment systems. Since 1993 NOVATEC has had one main goal: Customer satisfaction. We not only offer our Customers high-value products, but also customer-ca- re with a prompt and competent service. Our experience and constant technological upgrades to both resources and equipment have made this Our company, dynamic and flexible, has a wealth of knowledge supported by a motivated technical team involved both in development and research. The great value of NOVATEC products is the result of synergic efforts to achieve the optimum in the surface treatment field and to maintain the excellent price-quality ratio which marks each system produced. NOVATEC research and development in specific customer applications, enables us to offer the innovative and efficient solution for a guaranteed turn-key result. This philosophy and our zest to embrace each product as a new challenge, enabling us to improve quality, innovation and satisfy customer needs, has resulted in NOVATEC becoming a well-known and appreciated brand all NOVATEC's success, first in Europe and eventually throughout the world has enabled us to build up an important national and international commercial Our representatives, who cover most of the world markets, also operate with local personnel, guaranteeing prompt after-sales response for all technical and process related issues All of these aspects have contributed to NOVATEC's worldwide leadership in the field of surface treatment.
Open the catalog to page 1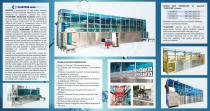 NOVATEC, a manufacturer of high quality cleaning systems, thanks worldwide experiences and success, introduces its ultrasonic cleaning line series "PLURITANK" (Multi-tank machines) which, owing to its modular construction method, is designed to meet the many requirements for the treatment of different parts (tools or components) prior to PVD coating processes or other vacuum treatments. Ultrasonic is the most efficient cleaning method available today; "PLURITANK" ultrasonic cleaning systems comprise a combination of different process modules, consisting of: ultrasonic immersion or spray...
Open the catalog to page 2
All NOVATEC srl - Surface Finishing Technology catalogs and technical brochures

Compare up to 10 products