Catalogs

>

One-Chamber System for Precision Cleaning under Vacuum Mod. 2CRD
Catalog excerpts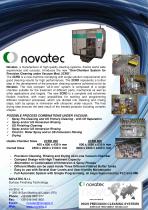 Novatec, a manufacturer of high quality cleaning systems, thanks world wide experiences and success, introduces the new "One-Chamber System for Precision Cleaning under Vacuum Mod. 2CRD". The 2CRD is a new machine complying with single solution requirements and good cleaning results for high performances. The 2CRD represents a further step in the development of the precision cleaning systems achieved so far by Novatec. The new compact "all-in-one" system is composed of a single chamber suitable for the treatment of different parts, mechanical as well as other applications and targets. The...
Open the catalog to page 2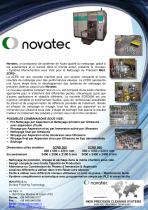 Novatec, un producteur de systèmes de haute qualité du nettoyage, grâce à les expériences et le succès dans le monde entier, présente le nouveau « Système Monochambre sous Vide pour le Nettoyage de Précision Mod. 2CRD». La 2CRD est une nouvelle machine pour une solution compacte et bons résultats de nettoyage pour des performances élevées. La 2CRD représente une future étape dans le développement des systèmes de nettoyage de précision obtenus jusqu'ici par Novatec. Le nouveau système compact "tout en un» est composé d'une seule chambre appropriée pour le traitement des différentes parties,...
Open the catalog to page 4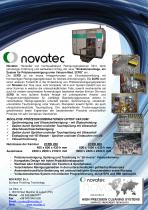 Novatec, Hersteller von hochqualitativen Reinigungssystemen führt, dank jahrelanger Erfahrung und weltweitem Erfolg, die neue "Einkammeranlage, ein System für Präzisionsreinigung unter Vakuum Mod. 2CRD" ein. Die 2CRD ist ein neues Anlagenkonzept zur Einzelsystemlösung mit hochwertigen Reinigungsergebnissen für höchste Anforderungen. Die 2CRD stellt einen weiteren Fortschritt in der Entwicklung von Präzisionsreinigungssystemen von Novatec dar. Das neue, sehr kompakte "all-in-one" System besteht aus nur einer Kammer in welcher die unterschiedlichsten Teile, sowohl mechanische als auch für...
Open the catalog to page 6
All NOVATEC srl - Surface Finishing Technology catalogs and technical brochures

Compare up to 10 products