Catalogs

>

Multi-Lock Chucks
Catalog excerpts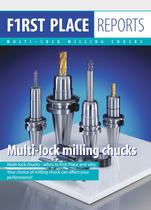 F1RST PLACE REPORTS Mullttii--llocck miilllliing cchucckkss M U L T I – L O C K M I L L I N G C H U C K S Multi-lock chucks - who's in First Place and why. Your choice of milling chuck can affect your performance!
Open the catalog to page 1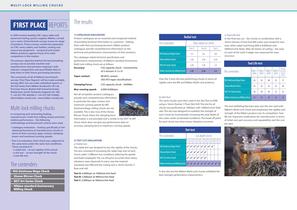 MULT I - LOCK MILLING CHUCKS In 2004 market-leading CNC rotary table and advanced tooling system supplier, Nikken, carried out a series of benchmark surveys across its range of products.These surveys, conducted separately on CNC rotary tables, tool holders, tooling and measuring equipment - compared and tested Nikken products against those of its main competitors in the market. The primary objective behind the benchmarking surveys was to provide machine tool manufacturers and precision engineers with relevant, comparative and quantifiable data to help them in their future purchasing...
Open the catalog to page 2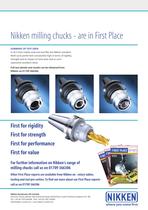 First for rigidity First for strength First for performance First for value Nikken milling chucks - are in First Place Nikken Kosakusho UK Limited, Precision House, Barbot Hall Industrial Estate, Rotherham, South Yorkshire, England, S61 4RL TEL: +44 (0)1709 366306 FAX: +44 (0)1709 376683 info@nikken-world.com www.nikken-world.com SUMMARY OF TEST DATA In all 3 tests (radial, axial and tool life) the Nikken standard Multi-Lock performed consistently high in terms of rigidity, strength and its impact on tool wear and as such represents excellent value. Full test details and results can be...
Open the catalog to page 3
All NIKKEN KOSAKUSHO catalogs and technical brochures

Archived catalogs
Compare up to 10 products