Catalogs

>

LiquiPure
Catalog excerpts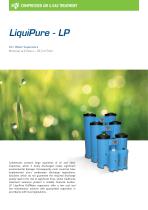 LiquiPure - LP Oil/Water Separators 1,1 - 35,5 m3/min Condensate contains large quantities of oil and other impurities, which if freely discharged create signicant environmental damage. Consequently most countries have implemented strict condensate discharge legislations. Solutions which do not guarantee the required discharge quality lead to the risk of signicant nes, whilst traditional treatment solutions present a notable nancial burden. LP LiquiPure Oil/Water separators offer a low cost and low maintenance solution with guaranteed separation in accordance with local legislations.
Open the catalog to page 1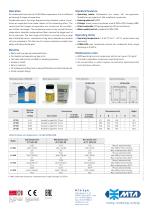 Standard features As condensate ows into the LP Oil/Water separators, the oil is ltered out through 3 stages of separation. Condensate enters the large depressurizing chamber (centrifugal type for LP001÷002), where oil particles are separated from water thanks to the coalescing effect. The second and third stages of separation are carried out by two different oil lter cartridges (LP004÷035) or a unique cartridge combining two different adsorption technologies (LP001÷002). The condensate moves to the second ltration stage where oleophilic polypropilene bers remove the bigger part of the oil...
Open the catalog to page 2
All MTA S.p.A catalogs and technical brochures

Archived catalogs

Compare up to 10 products