Catalogs

>

HAEevo
Catalog excerpts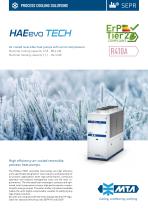 Air-cooled heat pumps with hermetic scroll or reciprocating compressors. Cooling capacity 13,4 - 96,3 kW Heating capacity 11,7 - 84,6 kW The evolution of... perfection. Technological innovation, absolute reliability and customer satisfaction have been MTA's hallmarks in over 30 years in the industrial cooling market. The HAEevo heat pumps, specically designed for use in industrial applications, are compact units equipped, as standard, with an internal storage tank and pump, offering a tried and tested solution that has received worldwide acclaim. The result of painstaking research and design, HAEevo heat pumps guarantee COP levels at the top of the category and constitute a key resource in increasing the energy efciency of industrial processes. The use of components sourced from premium manufacturers and extensive factory testing of all units make for highest reliability levels, minimising the risks of unplanned stoppages and increasing productivity levels.
Open the catalog to page 1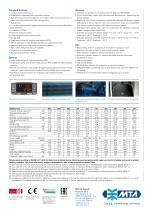 Scroll compressors The microprocessor detects the effective quantity of frost on the evaporator coil and manages the defrosting cycles in an intelligent manner, minimising the cycle frequency and performing cycles only when strictly necessary. FDS increases performance in the Heat Pump mode and decreases running costs. HAEevo chillers are equipped with scroll compressors (from model HAEevo 081), ensuring high efciency, excellent performance, and energy savings. Thanks to the reduced number of moving parts and the absence of suction and discharge valves, scroll compressors offer reduced...
Open the catalog to page 2
All MTA S.p.A catalogs and technical brochures

Archived catalogs

Compare up to 10 products