Catalogs

>

TxxxxL
Catalog excerpts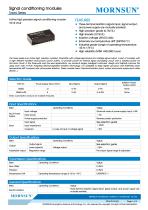 Signal conditioning modulesTxxxxL Series Active high precision signal conditioning module Vin & Vout FEATURES • Three-terminal isolation (signal input, signal output, and power supply are mutually isolated) • High precision grade (0.1% F.S.) • High linearity (0.1% FS.) • Isolation voltage (3KVDC/60s) • Extremely low temperature drift (35PPM/°C) • Industrial grade (range of operating temperature: -25 to +75°C) • High reliability (MTBF >500,000 hours) The TxxxxL series is an active high precision isolated transmitter with voltage signal input and voltage signal output. A part of modules, with a high effcient isolated micro-power source built-in, to provide power for internal signal processing circuit and a isolated power for front-end circuit. In the three-wire and four-wire applications, our products largelypredigest customers' design and helpfully improve the using room ratio ofPCB. Adopting electromagnetism isolation technology, it is available to keep higher accuracy and extremely lower temperature drift compare with optocoupier isolation. These modules have 3-terminai isolation (input, outputandpowersuppiyeach other 3KVDC.). MORNSUN GUANGZHOU SCIENCC & TECHNOLOGY CO.,LTD. MORNSUN Guangzhou Science & Technology Co., Ltd. reserves the copyright and right of final interpretation
Open the catalog to page 1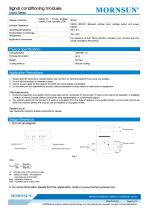 Signal conditioning modulesTxxxxL Series Degree of Isolation 1. Please read the instructions carefully before use; contact our technical support if you have any problem. 2. Do not use the product in hazardous areas. 3. Use DC power supply for the product and 220V AC power supply is prohibited. 4. Do not dismount and assemble the product without permission to avoid failure or malfunction of equipment. After-sales service 1. Ex-factory inspection and quality control have been strictly conducted for the product; if there occurs abnormal operation or possibility of failure of internal module,...
Open the catalog to page 2
THIRD ANGLE PROJECTION © CJ Pin-Out Function Signal input+ Signal input-Power input+ Power input-Signal output-I-) Signal output+ Gain adjustable Gain adjustable 1. Packing Information please refer to 'Product Packing Information'. Packing bag number: 58210017; 2. Unless otherwise specified, data in this datasheet should be tested under the conditions of Ta=25°C, humidity<75% when inputting nominal voltage and outputting rated load; 3. All index testing methods in this datasheet are based on our Company's corporate standards; 4. The performance indexes of the product models listed in this...
Open the catalog to page 3
All MORNSUN Guangzhou Science & Technology Co. catalogs and technical brochures

Archived catalogs

Compare up to 10 products