Catalogs

>

TExxxxCN
Catalog excerpts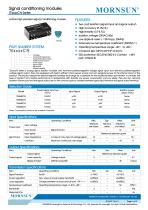 Signal conditioning modulesTExxxxCN Series Active high precision signal conditioning module FEATURES • Two- port isolation (signal input and signal output) • High accuracy (0.1 % F.S.) • High linearity (0.1% F.S.) • Isolation voltage (2KVAC/60s) • Low ripple & noise: (^35mVpp, 20MHz) • Extremely low temperature coefficient (50PPM/°C) • Operating temperature range: -40C to +85C • Compact size: DIP18 (26*9.5*12.5mm) • ESD protection (IEC/EN61000-4-2 Contact ±4KV perf. Criteria B) TExxxxCN series is analog signal isolation modules with front-end positive/negative voltage signal input and rear-end positive/negative voltage signal output. They are equipped with built-in efficient micro-power source and can supplying power to the internal circuit of the product. The product adopts the electromagnetic isolating technology as a substitute for the traditional linear opto-isoiator. in contrast, this type of product has a better performance in temperature drift, linearity, low power consumption and Low ripple. They are two -terminal isolation (Power input and the signal output are on the common ground, isolated between signal input terminal and signal output terminal). MORNSUN GUANGZHOU SCIENCE & TECHNOLOGY CO.,LTD. MORNSUN Guangzhou Science & Technology Co., Ltd. reserves the copyright and right of final interpreta
Open the catalog to page 1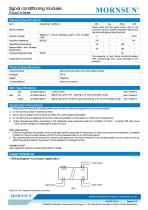 Signal conditioning modulesTExxxxCN Series General Specifications 1. Please read the instructions carefully before use; contact our technical support if you have any problem; 2. Do not use the product in hazardous areas; 3. Use DC power supply for the product and 220V AC power supply is prohibited; 4. Do not dismount and assemble the product without permission to avoid failure or malfunction of equipment; 5. Unless otherwise specified, parameters in this datasheet were measured under the conditions of Ta=25 °C, humidity<75% with power input nominal voltage and rated signal output full...
Open the catalog to page 2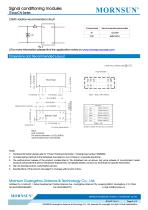 3.For more information please find the application notes on www.mornsun-power.com Dimensions and Recommended Layout Notes: 1. Packing Information please refer to 'Product Packing Information'. Packing bag number: 58240002; 2. All index testing methods in this datasheet are based on our Company's corporate standards; 3. The performance indexes of the product models listed in this datasheet are as above, but some indexes of non-standard model products will exceed the above-mentioned requirements, and please directly contact our technician for specific information; 4. We can provide product...
Open the catalog to page 3
All MORNSUN Guangzhou Science & Technology Co. catalogs and technical brochures

Archived catalogs

Compare up to 10 products