Catalogs

>

TDx01D232H / SINGLE HIGH SPEED / ISOLATION TRANSCEIVER / Integrated / 0~115.2Kbps
Catalog excerpts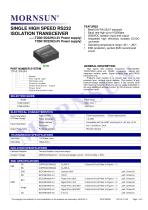 SINGLE HIGH SPEED RS232 ISOLATION TRANSCEIVER ——TD301D232H(3.3V Power supply) TD501D232H(5.0V Power supply) FEATURES l Meet EIA/TIA-232-F standard l Baud rate high up to115200bps l 2500VDC isolation input and output l Integrated high efficiency isolated DC/DC converter l Operating temperature range:-40℃~+85℃ l ESD protection, perfect EMC recommend circuit GENERAL DESCRIPTION PART NUMBER SYSTEM High speed 232 isolation transceiver TD301D232H/ TD501D232H series are RS485 transceiver module with integrated isolation power, Signal isolation chip and RS232 transceiver chip. Product's main function is to convert logic level to 232 protocols level, achieve signal isolation. The product is with constant-voltage source isolation power. It can achieve 2500 VDC electrical isolation. Products can be easily embedded in the user equipment,achieve function of 232 protocols network connection easily. TD501D 232H Speed Port signal type Package type Channel number Power distribution output Power input Digital bus product type SELECTION GUIDE Model Power Input ELECTRICAL CHARACTERISTICS Input Parameters Of Power Supply Input Parameters Output Parameters Static current Power dissipation Serial interface Compatible with the UART control port of +5V and +3.3V Protocols interface TRANSMISSION SPECIFICATIONS Data Rate Data delay ISOLATION SPECIFICATIONS Electrical Isolation Two-port isolation (input and output) Isolation Voltage 2500VDC(Tested for 1 minute and leakage current < 5mA,humidity < 95%) EMC SPECIFICATIONS (External Circuit Refer to Figure 1-①) (External Circuit Refer to Figure 1-①) (External Circuit Refer to Figure 1-②) (External Circuit Refer to Figure 1-①) (External Circuit Refer to Figure 1-②) perf. Criteria B perf. Criteria A The copyright and authority for the interpretation of the products are reserved by MORNSUN
Open the catalog to page 1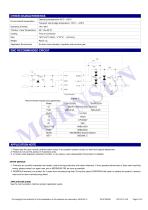 OTHER CHARACTERISTICS Environmental temperature Operating temperature:-40°C ~+85°C Transport and storage temperature: -50°C ~+105°C Operating Humidity Application Environment No dust, fierce vibration, impulsion and corrosive gas (Figure 1) Recommended external circuit parameters: APPLICATION NOTE 1. Please read the user manual carefully before using. If any question please contact our technical support department. 2. Please do not use this product in hazardous area. 3. To avoid invalid explosion protection function, or any failure, users disassemble this product is forbidden. AFTER SERVICE...
Open the catalog to page 2
TYPICAL APPLICATIONS CIRCUIT DIAGRAM Vcc ISOLATION BARRIER HIGH SPEED OPTO HIGH SPEED OPTO New circuit Conventional circuit OUTLINE DIMENSIONS, RECOMMENDED FOOTPRINT & PACKAGING Note: 1. All specifications measured at Ta=25°C, humidity<75%, nominal input voltage and rated output load unless otherwise specified. 2. In this datasheet, all test methods and setup are based on our corporate standards. 3. All characteristics are meant for listed model, non-standard models may perform differently, you can contact MORNSUN FAE for more details. 4. Contact us for your specific requirement. 5....
Open the catalog to page 3
All MORNSUN Guangzhou Science & Technology Co. catalogs and technical brochures

Archived catalogs

Compare up to 10 products