Catalogs

>

LO20-10C0512-01
Catalog excerpts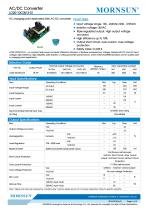 AC/DC ConverterLO20-10C0512-01 AC charging point dedicated 20W, AC-DC converterRoHS voltage, high efficiency, high reliability, safer isolation, in charging point application. FEATURES • Input voltage range: 165 - 264VAC/230-370VDC • Isolation voltage: 3KVAC • Triple regulated output, High output voltage accuracy • High efficiency up to 78% • Output short circuit, over-current, over-voltage protection • Safety Class: CLASS II rnsun. It features universal input voltage, taking both DC and AC input MC performance, which meet IEC60950standard, and it's widely used Input Specifications Item Output Specifications MORN5UN GUANGZHOU SCIGNCG & TGCHNOLOGY CO.,LTD. 2016.09.28-A/0 Page 1 of 3 MORNSUN Guangzhou Science & Technology Co., Ltd. reserves the copyright and right of final interpretation
Open the catalog to page 1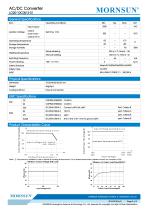 AC/DC Converter LO20-10C0512-01 General Specifications Item Operating Conditions Operating Temperature Storage Temperature Input-output Isolation Voltage Storage Humidity Welding Temperature Switching Frequency Power Derating Safety Standard Safety Class Physical Specifications Dimension Cooling method line to line ±1KV / line to ground ±2KV Product Characteristic Curve In p u t Vo lta g e D e r a tin g C u r v e 100 80 60 40 In p u t Vo lta g e A m b i e n t t e m p e ra t u re (℃ ) Note: ① This product is suitable for use in natural air cooling environments, if in a closed environment,...
Open the catalog to page 2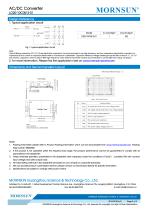 AC/DC Converter LO20-10C0512-01 Design Reference 1. Typical application circuit A C (L) Fig. 1: typical application circuit Note: Output filtering capacitors C2, C4, C6 are electrolytic capacitors, it is recommended to use high frequency and low impedance electrolytic capacitor. For capacitance and current of capacitor please refer to manufacture's datasheet. Capacitor withstand voltage derating should be 80% or above. C1, C3, C5 are ceramic capacitors, which is used to filter high-frequency noise. External input FUSE model is recommended to use 2A/250V slow fusing, necessary. 2. For more...
Open the catalog to page 3
All MORNSUN Guangzhou Science & Technology Co. catalogs and technical brochures

Archived catalogs

Compare up to 10 products