Catalogs

>

FI-B03D
Catalog excerpts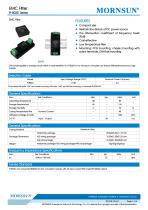 MORNSUN® FEATURES • Compact size • Restrain line disturb of DC power source • The attenuation coefficient of frequency meet 20dB • Cost-effective • Low Temperature Rise • Mounting: PCB mounting, chassis mounting with screw terminals, DIN-Rail mounting RoHS This model applies to analog circuit which is noise-sensitive, Put F/-B03D on to the input of module can ensure EMI performance by a big margin. FI-B03D can ensure MORNSUN DC/DC converter module with 3A input current EMI meet EN 55022 Class B, MORNSUN GUANGZHOU SCIENCC & TECHNOLOGY CO.,LTD. MORNSUN Guangzhou Science & Technology Co,, Ltd, reserves the copyright and right of final interpretation
Open the catalog to page 1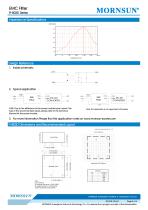 EMC Filter FI-B03D Series impedance Specifications IMPD(dB Ω ) Design Reference 1. Inside schematic +Vi n 2. Typical application +Vin -Vin FUSE: Due to the difference of the power module input current, the fuse of the recommended values, please refer to the Technical Manual for the power module. DC-DC CONVERTER Note: This application is not supported for this series. 3. For more information Please find the application notes on www.mornsun-power.com FI-B03D Dimensions and Recommended Layout MORNSUN Guangzhou Science & Technology Co., Ltd. reserves the copyright and right of final...
Open the catalog to page 2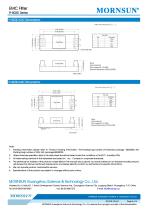 MORNSUN®FI-B03DA2S Dimensions THIRD ANGLE PROJECTION Front View 1. Packing Information please refer to 'Product Packing Information'. The Packing bag number of Horizontal package : 58220003, the Packing bag number of A2S/ A4S package:58220022; 2. Unless otherwise specified, data in this data sheet should be tested under the conditions of Ta=25°C, humidity<75%; 3. All index testing methods in this datasheet are based on our Company's corporate standards; 4. The performance indexes of the product models listed in this manual are as above, but some indexes of non-standard model products will...
Open the catalog to page 3
All MORNSUN Guangzhou Science & Technology Co. catalogs and technical brochures

Archived catalogs

Compare up to 10 products