Catalogs

>

FC-L01DV1 / EMC Filter / ±1/±2 Surge Voltage (KV) / For AC/DC
Catalog excerpts
l Compact size l Design to suppress the AC power surge to achieve primary protection l Ensure the power supply module to meet the requirement of CISPR22/ EN55022 Class B l Cost-effective l Low Temperature rise RoHS This model applies to analog circuit which is noise-sensitive. Put FC-L01DV1 on to the input of AC/DC module can ensure the module meet Surge level of IEC/EN61000-4-5 ±1KV (2Ω internal resistance)/±2KV (12Ω internal resistance)and EMI requirement of CISPR22 /EN 55022 Class B. EMC filter used with the MORNSUN AC/DC module, AC/DC module's max. Input voltage must not more than EMC filter's max. Voltage, AC/DC module's max. Input current must less than EMC filter's max current. Selection Guide Model Input Voltage Range (VAC) Current (A)(max) General Specifications Item Test Conditions Operating Temperature Storage Temperature Casing Temperature Rise Leakage current (line to ground) General Specifications Casing Material Black flame-retardant heat-proof epoxy resin (UL94-V0) Package Dimensions Devise Standard Put FC-L01DV1 on to the input of AC/DC module can ensure the module meet Surge level of IEC/EN61000-4-5 ±1KV (2Ω internal resistance)/±2KV (12Ω internal resistance)and EMI requirement of CISPR22 /EN 55022 Class B. Design Reference 1. Inside schematic 1 MORNSUN Guangzhou Science & Technology Co., Ltd. reserves the copyright and right of fina
Open the catalog to page 1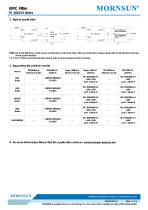 EMC Filter FC-L01DV1 Series 2. Typical application FU S E FUSE: Due to the difference of the power module input current, the fuse of the recommended values, please refer to the Technical Manual for the power module. C1, CY0, CY, LDM: parameter selection please refer to power supply technical manual. 3. Supporting the product model Model EMI(Without External Circuit) Surge (Without External Circuit) EFT (Without External Circuit) 4. For more information Please find the application notes on www.mornsun-power.com MORNSUN Guangzhou Science & Technology Co., Ltd. reserves the copyright and right...
Open the catalog to page 2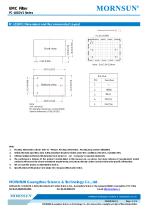 FC-L01DV1 Dimensions and Recommended Layout Packing Information please refer to 'Product Packing Information'. Packing bag number: 58220014; Unless otherwise specified, data in this datasheet should be tested under the conditions of Ta=25°C, humidity<75%; All index testing methods in this datasheet are based on our Company's corporate standards; The performance indexes of the product models listed in this manual are as above, but some indexes of non-standard model products will exceed the above-mentioned requirements, and please directly contact our technicians for specific information; We...
Open the catalog to page 3
All MORNSUN Guangzhou Science & Technology Co. catalogs and technical brochures

Archived catalogs

Compare up to 10 products