Catalogs

>

PWF11-PWT11 2,200 LB CAPACITY LIGHT-DUTY WALKIE STACKER
Catalog excerpts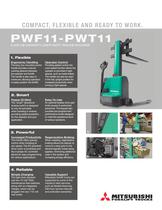 2,200 LB CAPACITY LIGHT-DUTY WALKIE STACKER Ergonomie Handling Operator Control The long, low-mounted control Providing added control, the handle provides a secure crawl speed function allows the working distance between operator to pinwheel in tight the operator and forklift. spaces, such as inside trailers. The handle is also easy to The handle can also be used maneuver, allowing operators in the fully upright position for to easily position the forklift. increased productivity when turning in tight spaces. reverse switch is designed when traveling in reverse, providing added protection An optional keyless entry pad limits access to authorized personnel. The keypad also provides pre-programmed performance levels designed to meet the experience level Increased Productivity This forklift offers precise control when traveling at drive motor is brushless and allows for easy programming Regenerative Braking When coasting, regenerative braking allows the stacker to come to a stop prior to the electromagnetic brake being applied, minimizing additional increasing energy efficiency. Simple Charging maintenance-free batteries, along with an integrated wall outlet. Valuable Support Mitsubishi forklift trucks are industry's best services, such as flexible financing,
Open the catalog to page 1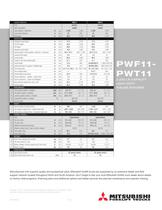 6 Collapsed mast height Free-lift height Lift height Extended mast height Handle height In drive position, minimum / maximum Lowered fork height Overall length Length to fork face (head length) Overall width Inside dimension of support / straddle legs Fork dimensions Fork carriage width Overall width across forks Ground clearance - loaded - under mast Ground clearance - center of wheelbase Aisle width for pallets 48 x 40 (L x I Service weight Including battery Axle loading, loaded drive / loaded wheel axle Axle loading, unloaded drive / unloaded wheel axle Manufactured with superior quality...
Open the catalog to page 2
All Mitsubishi Forklift Trucks catalogs and technical brochures

Archived catalogs

Compare up to 10 products