Catalogs

>

MINV

>

Crude Oil Processing
Catalog excerpts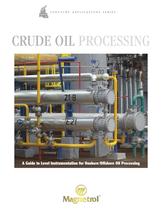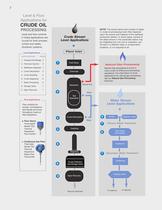 2 Level & Flow Applications for CRUDE OIL PROCESSING Level and flow controls in these applications are crucial for both process control and safety shutdown systems. Level Applications: NOTE: The actual nature and number of steps in crude oil processing most often depends upon the source and makeup of the wellhead production stream. In some cases, several of the steps shown in the schematic below may be integrated into one unit or operation, per-formed in a different order or at alternative locations, or not required at all. To reservoir To disposal APPLICATION PAGE 1. Production Fluid...
Open the catalog to page 2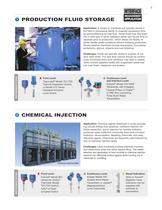 3 interface yproductionfluidstorage measurement application Application: A variety of chemicals are typically stored in the field or processing facility to expedite processing time by preconditioning an inlet fluid. These fluids may first enter into a hold tank to allow upstream solids and liquids time to separate prior to production, which allows the facility to better handle upset conditions without stopping production. Stored additive chemicals include dispersants, flocculants, surfactants, glycols, diluents and rust inhibitors. Challenges: Fluids are typically stored in a series of...
Open the catalog to page 3
All MINV catalogs and technical brochures

Compare up to 10 products