Catalogs

>

MINI COOK 15
Catalog excerpts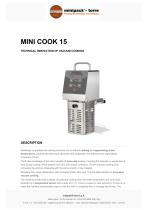 DESCRIPTION Nowadays no professional catering business can do without cooking and regenerating at low temperatures, because this technique optimises food preparation and enhances the organoleptic properties of food. Chefs take advantage of the many benefits of sous­vide cooking, including the reduction in weight loss of food during cooking, which passes from 30% with normal cooking to 7% with vacuum cooking, thus increasing the portions obtainable with the same amount of raw material. Resulting from close collaboration with renowned chefs, Mini cook 15 is the ideal solution for innovative vacuum cooking. The machine is fitted with a display showing the cooking time, the water temperature and core probe detected by a temperature sensor with a delta of 0.1°C. Food is cooked in total autonomy; if there is no water the machine automatically stops so that the chef is completely free to manage the kitchen. The innovated temperature­controlled cooking system allows foods to be cooked evenly without ever subjecting them to thermal shocks that could harm the product. minipack®-torre S.p.A. Sede legale - Via Provinciale, 54 -
Open the catalog to page 1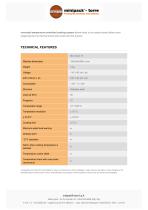 properties of food. Chefs take advantage of the many benefits of sous­vide cooking, including the reduction in weight loss of food during cooking, which passes from 30% with normal cooking to 7% with vacuum cooking, thus increasing the portions obtainable with the same amount of raw material. Resulting from close collaboration with renowned chefs, Mini cook 15 is the ideal solution for innovative vacuum cooking. The machine is fitted with a display showing the cooking time, the water temperature and core probe...
Open the catalog to page 2
Temperature check with core probe (accessory) minipack®­torre shall not be held liable for typos or printing errors in this catalogue. It also reserves the right to make changes to the specified features without prior notice. All trademarks are property of their respective owners and are hereby acknowledged. NEW TECHNICAL FEATURES 10 programs for repeating your successful recipes Delayed start of cooking to optimise organisation of your kitchen Precise, uniform and repeatable cooking that preserves all of the flavours and aromas of foods thanks to the core probe...
Open the catalog to page 3
All MINIPACK - TORRE catalogs and technical brochures

Archived catalogs
Compare up to 10 products