Catalogs

>

Navigator Mobile TIG and MMA inverter Series
Catalog excerpts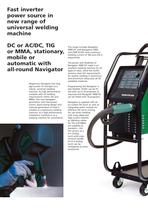 Migatronic Navigator has longago proven its strength as a robust, universal weldingmachine. Its high performancecomplies with all welding requirements within TIG andMMA. The new Navigatorgeneration with fast power source, space-saving design andreduced generation of heat issuitable as a stationary welding machine, as a high performance installation machine or as awelding machine for automation. The range includes Navigator3000 DC and Navigators 3000 and 2500 AC/DC with maximumwelding current of 300 and 250 A respectively.The power and flexibility ofNavigator 3000 DC make it anexcellent...
Open the catalog to page 2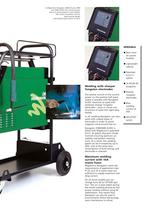 In Migatronic Navigator 3000 DC plus 3000and 2500 AC/DC the inverter powersource is concentrated in one module. The result is excellent control,space-saving design and reduced generation of heat. SPECIALS New inver-ter powermodule Lighweightcabinet PatentedD.O.C. > -system 16 DC/20 AC-programs > SharperTungstenelectrodes The precise control of the currentpower on the positive half-wavemakes it possible with NavigatorAC/DC machines to weld withrelatively sharper Tungstenelectrodes Ζ even in corner con-structions of quite thin light-alloymetals.In AC welding Navigator can alsoweld with coated...
Open the catalog to page 3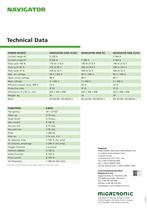 POWERSOURCENAVIGATOR 2500 AC/DCNAVIGATOR 3000 DC NAVIGATOR 3000 AC/DC Current range AC5-250 A-5-300 ACurrent range DC5-250 A5-300 A5-300 ADuty cycle 100 %170 A/ 27.6 V190 A/ 27.6 V190 A/ 27.6 VDuty cycle 60 %220 A/ 30 V240 A/ 29.6 V240 A/ 29.6 V Duty cycle 25 %250 A/ 32 V300 A/ 32 V300 A/ 32 V Max. arc coltage38 V / 250 A40 V / 300 A36 V / 300 A Open circuit voltage80 V80 V80 VMain voltage3 x 400 V3 x 400 V3 x 400 V Efficient current value, 400 V16 A16 A16 AProtection classIP 23IP 23IP 23 Dimensions H x W x L, mm563 x 300 x 698563 x 300 x 698563 x 300 x 698 Weight, kg313438NormEN 50199 / EN...
Open the catalog to page 4
All Migatronic catalogs and technical brochures

Archived catalogs

Compare up to 10 products