Catalogs

>

Solutions for the Packaging Market
Catalog excerpts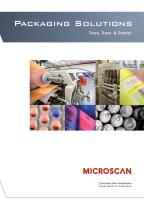 COMPANY & PRODUCTS Microscan is a manufacturer and global technology leader for track, trace, and control solutions. Our barcode and machine vision products help companies around the world to drive down cost and waste, automate critical manufacturing processes, and increase yields through precision data acquisition. As an ISO 9001 certified company recognized for quality leadership, Microscan is known and trusted by customers worldwide as a provider of quality, high precision products. AUTO ID Barcode Readers & Verifiers Microscan offers fast, reliable barcode readers for all standard linear barcodes and 2D symbols. Features include small size, high speed reading, wide field of view, symbol reconstruction, and aggressive decoding technology. Quadrus® MINI Mobile Hawk Data Matrix Optical Character Recognition (OCR) Direct Part Marks MACHINE VISION Software, Hardware & Lighting Microscan holds one of the world's most robust patent portfolios for machine vision technology. Our products include machine vision software, smart cameras, and lighting for applications such as identification, inspection, and measurement. Optical Character Verification (OCV) Date/Lot Tracking Seal Inspection United States Corporate Headquarters 700 SW 39th St. Renton, WA 98057 (T) 425-226-5700/800-251-7711 (F) 425-226-8250 Email: info@microscan.com GigE Camera Europe European Headquarters Lemelerberg 17 NL - 2402 ZN Alphen aan den Rijn The Netherlands (T) 31-172-4233-60 (F) 31-172-4233-66 Item Traceability Singapore Asia Pacific Headquarters 31 Kaki Bukit Road 3 #06-04/05 TechLink, Singapore 417818 (T) 65-6846-1214 (F) 65-6846-4641 Email: asia@microscan.com Email: info@microscan.nl Packaging Solutions Track, Trace & Control
Open the catalog to page 1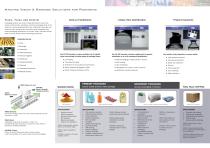 Machine Vision & Barcode Solutions for Packaging Date/Lot Verification Unique Item Identification Use 1D/2D barcodes or human readable text for identication and tracking of similar groups of packaged items: Product Inspection Use 1D/2D barcodes or human readable text for product serialization or to verify component identication: Packaging systems are under strong demands to ensure the quality of the primary, secondary, and final packaging while at the same time maximizing production flow. Microscan's barcode and machine vision products are commonly used throughout automated packaging...
Open the catalog to page 2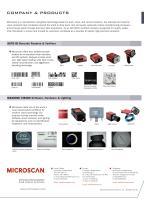 COMPANY & PRODUCTS Microscan is a manufacturer and global technology leader for track, trace, and control solutions. Our barcode and machine vision products help companies around the world to drive down cost and waste, automate critical manufacturing processes, and increase yields through precision data acquisition. As an ISO 9001 certified company recognized for quality leadership, Microscan is known and trusted by customers worldwide as a provider of quality, high precision products. AUTO ID Barcode Readers & Verifiers Microscan offers fast, reliable barcode readers for all standard...
Open the catalog to page 3
All Microscan Systems catalogs and technical brochures

Archived catalogs
Compare up to 10 products