Catalogs

>

Smart Series DOAL® Illuminators
Catalog excerpts
N E RL IT E ® DOAL ® Diffuse On-Axis Lighting (DOAL) Available In Three Colors & Infrared Available In Four Sizes Microscan's Smart Series NERLITE products feature built-in controllers for a complete and easily integrated solution. DOAL illuminators provide the best contrast for images of features marked or embossed on a flat specular surface with diffuse and uniform on-axis illumination. With the coaxial lighting approach, specular surfaces perpendicular to the camera appear bright, while surfaces which are marked or embossed absorb light and appear dark. DOAL: At a Glance • Smart Series: Built-in controller with adjustable intensity continuous mode and high output strobe mode • Integrated Pulse Width Modulation (PWM) feature for dimming and on-off control • Provides high intensity diffuse illumination with superior uniformity throughout the envelope • Compact, lightweight package can be used on moving camera modules • Passively cooled design for efficient and reliable operation Illumination Example: Object Resulting Image Application Examples •Evenly illuminate flat, shiny surfaces •Enhance scribed, indented, or embossed features •Create contrast between specular, diffuse, or absorptive surfaces •Diminish visibility of clear overcoats or coverings •Electronic component inspection •Fiducial location Stamped characters on a metal plate: High contrast image allows inspection or reading. For more information on this product, visit www.microscan.com.
Open the catalog to page 1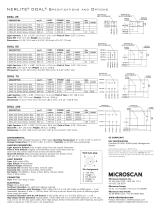 NERLITE ® DOAL ® S pecifications DOAL 25 DESCRIPTION nm/K DOAL-25, Smart Series, Red 628 nm DOAL-25, Smart Series, Blue 470 nm DOAL-25, Smart Series, White 5500 K DOAL-25, Smart Series, Infrared 880 nm CURRENT CURRENT CONT. CONT. STROBE Light Aperture: 1.00" x 0.95" (25.4 mm x 24.1 mm) Field of View: 0.50" (13 mm) Stand Off: 0.50" (13 mm) Weight: 4 oz. (113 g) Dimensions: H 1.24" (31.5 mm) x W 1.25" (31.8 mm) x D 3.11" (79 mm) DOAL 50 DESCRIPTION nm/K DOAL-50, Smart Series, Red 628 nm DOAL-50, Smart Series, Blue 470 nm DOAL-50, Smart Series, White 5500 K DOAL-50, Smart Series, Infrared 880...
Open the catalog to page 2
All Microscan Systems catalogs and technical brochures

Archived catalogs
Compare up to 10 products