Catalogs

>

NERLITE A-TEST Method
Catalog excerpts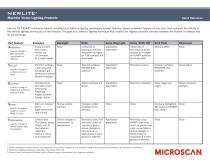 Quick Reference NERLITE®Machine Vision Lighting Products Use the "A T-E-S-T" method to identify the effects of different lighting techniques on part features. Select a relevant feature of your part, then compare the effects of the various lighting techniques on that feature. The goal is to select a lighting technique that creates the highest possible contrast between the feature of interest and its surroundings. 1 Surface absorption is affected by the color (spectrum) of illumination. Surface texture, elevation, shape and translucency are affected by the direction of illumination. 2 Uniformity of lighting increases in ascending order: Dome, SCDI, CDI. 3 Texture is both the presence of texture (matte, diffused, bumpy) or its absence (shiny, specular, polished).
Open the catalog to page 1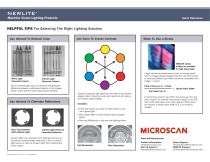 Machine Vision Lighting Products Quick Reference HELPFUL TIPS For Selecting The Right Lighting Solution Use Infrared To Diminsh Color Use Color To Create Contrast NERLITE strobe models are available for high speed apps White Light Grayscale Camera A light should be strobed when a part is moving quickly and the image captured appears blurred. Use this formula to calculate Strobe Pulse Width (maximum acceptable blur image = 1 pixel). Infrared Light Grayscale Camera Use an infrared light source to diminish the grayscale difference between multicolored objects. In the images above, notice that...
Open the catalog to page 2
All Microscan Systems catalogs and technical brochures

Archived catalogs
Compare up to 10 products