Catalogs

>

MS-CONNECT 5100 CONCENTRATOR & PROTOCOL CONVERTER
Catalog excerpts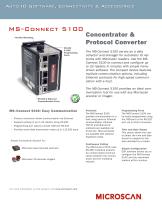 MS–Connect 5100 Flexible Mounting RS-485 & Ethernet Communication Ports MS–Connect 5100: Easy Communication • Protocol conversion allows communication via Ethernet • Supports polling of up to 32 readers using RS-485 • Programming port options include USB and RS-232 • Provides serial data transmission rates up to 115,200 baud Concentrator & Protocol Converter The MS-Connect 5100 serves as a data collector and manager for automatic ID networks with Microscan readers. Use the MSConnect 5100 to connect and configure up to 32 readers in minutes with simple menudriven software. The compact device features multiple communication options, including Ethernet protocols for high speed communication with a host. The MS-Connect 5100 provides an ideal communication tool for use with any Microscan scanner or imager. Protocols The MS-Connect 5100 provides communication to a host using serial or Ethernet communication. Ethernet TCP/IP and Ethernet IP protocols are available out of the box. Other protocols are available with optional expansion cards. Simple Connectivity Solution for: Microscan laser barcode scanners Microscan 2D barcode imagers For more information on this product, visit www.microscan.com. Continuous Polling The MS-Connect 5100 uses RS-485 multidrop protocol for uninterrupted communication between the concentrator and the multidrop network. Programming Ports The MS-Connect 5100 can be easily programmed using the USB port or the RS-232 port via an RJ12 connector. Time and Date Stamp This option allows the user to select the time and date format to prepend to the data decoded by a reader. Simple Configuration ESP software allows you to configure the MS-Connect 5100 and the networked readers within minutes.
Open the catalog to page 1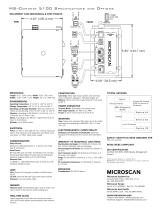 MS-CONNECT 5100 MECHANICAL & PORT PINOUTS SIDE MECHANICAL Length: 4.15" (105.4 mm) Width: 3.09" (78.5 mm) Height: 5.30" (134.7 mm) Weight: 15.1 oz. (456.4 g) ENVIRONMENTAL Operating Temperature: 0° to 50° C (32° to 122° F) Storage Temperature: -30° to 70° C (-22° to 158° F) Operating and Storage Humidity: 80% max relative humidity, non-condensing, from 0 to 50° C (32° to 122° F) Vibration: According to IEC 68-2-6: 5 to 150 Hz, in X, Y, Z direction for 1.5 hours, 2 g's Shock: According to IEC 68-2-27: Operational 30 g, 11 msec in 3 directions Altitude: Up to 2000 meters ELECTRICAL Power: 24...
Open the catalog to page 2
All Microscan Systems catalogs and technical brochures

Archived catalogs
Compare up to 10 products