Catalogs

>

MS-3 Compact Laser Barcode Scanner
Catalog excerpts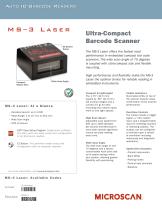 Ultra-Compact Barcode Scanner The MS-3 Laser offers the fastest read performance in embedded compact bar code scanners. The wide scan angle of 70 degrees is coupled with ultra-compact size and exible mounting. Compact Shape/Size Wide Scan Angle MS–3 Laser: At a Glance • Decodes/second: up to 1000 High performance and exibility make the MS-3 Laser the optimal choice for reliable reading in embedded instruments. Compact & Lightweight The 1.75" (44.5 mm) square by .85" (21.6 mm) tall scanner weighs only 2 ounces (57 g) for easy mounting onto robotic equipment or into tight spaces. • Read Range: 2 to 10" (51 to 254 mm) • Wide Scan Angle • IP54 Enclosure ESP® Easy Setup Program: Single-point software provides quick and easy setup and configuration of all Microscan readers. EZ Button: This performs reader setup and configuration with no computer required. High Scan Speed Adjustable scan speed from 300 up to 1000 decodes per second and Microscan's world-class decode algorithms ensure accurate reading every time. Wide Scan Angle The wide scan angle of over 70 degrees and a factory customizable focal point add up to space savings within your system, allowing greater flexibility with positioning. Visible Indicators Illuminated LEDs on top of the scanner provide visual confirmation of the scanner performance. Real-time Controls The inputs include a trigger signal, a "new master" input, and a programmable input for resetting counters or releasing outputs. The outputs can be configured to activate upon a variety of conditions including matchcode and diagnostic operations. Application Examples •Clinical instruments •Bank ATMs •Parking kiosks •Point-of-sale terminals •Robotics For more information, visit www.microscan.com.
Open the catalog to page 1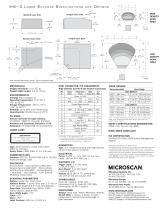 MS−3 L ASER S CANNER S PECIFICATIONS HIGH DENSITY SCAN AREA LOW DENSITY SCAN AREA Note: Nominal dimensions shown. Typical tolerances apply. MECHANICAL Weight (Standard): 2 oz. (57 g) Weight (Right Angle): 2.8 oz. (87 g) ENVIRONMENTAL Housing: IP54 (category 2) Operating Temperature: 0° to 50° C (32° to 122°F) Storage Temperature: –50° to 75° C (–58° to 167°F) Humidity: Up to 90% (non-condensing) Operating Life: 40,000 hours at 25° C CE MARK General Immunity for Light Industry: EN 55024: 1998 ITE Immunity Standard Radiated and Conducted Emissions of ITE Equipment: EN 55022:98 ITE...
Open the catalog to page 2
All Microscan Systems catalogs and technical brochures

Archived catalogs
Compare up to 10 products