Catalogs

>

LVS-7300
Catalog excerpts
LVS® Print Quality Inspection Systems LVS-730D Machine Vision Functions •1D and 2D Bar Code Reading and ISO Verification •Pattern Recognition/Matching/Blemish Detection •Blob Analysis •Measuring tools •Color Analysis •Optical Character Recognition and Verification (OCR/OCV) For more information on this product, visit www.microscan.com. Affordable Line Scan and Area Scan Camera Technology • Utilizes line scan and area scan camera technology for entry level inspection systems • Additional features: • Back numbering count verification • Single lane grading of 1D and 2D barcodes to ISO standards • 100% print quality vision inspection • Color monitoring • Touch screen monitor with easy-to-use interface -Scan and Go. Includes "pinch and zoom" functionality to enlarge any area on the web or object • Mounts to presses, slitter/rewinders, folder gluers, conveyors, form fill and seal machines, and most types of machinery where vision inspection is required • Customize the LVS-7300 to build a system that is perfect for your needs. • Master-to-Label Comparison (Blemish Detection) Detects blemishes, missing labels, voids, spots, skews and missing copy. Built-in "pinch and zoom" allows operators to zoom into specific areas for up-close visual inspection. • Barcode Validation (Reading of 1D and 2D Codes) Decodes 1D and 2D codes to determine if the code is readable. No attempt is made to grade the codes according to any standard. • Barcode Verification (Grading to ISO/IEC Standards) Verifies 1D and 2D codes according to applicable symbology specifications and ISO/IEC 15415 and ISO/IEC 15416. • Optical Character Recognition/Verification (OCR/OCV) Includes file matching, duplicate checking, and random or sequential data validation. • Delta E Color Process Control Detects color variations by comparing the master color to the image color currently displayed in the field of view.
Open the catalog to page 1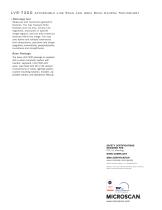 LVS-73DD Affordable Line Scan and Area Scan Camera Technology • Metrology Tool Measures and constructs geometric features. You may measure finite features such as arcs, circles, line segments, and points in specific image regions, and can also construct features within the image. You may also define and validate tolerances from dimensions, positions and shape (angularity, concentricity, perpendicularity, roundness and straightness) Base Package The base LVS-7300 package is supplied with a vision computer system with monitor, keyboard, LVS-7300 software, read head with 2K or 4K...
Open the catalog to page 2
All Microscan Systems catalogs and technical brochures

Archived catalogs
Compare up to 10 products