Catalogs

>

Large Area Backlights
Catalog excerpts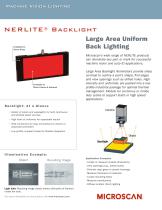 NERLITE ® Backlight Large Area Uniform Back Lighting Available In Three Sizes Microscan's wide range of NERLITE products can illuminate any part or mark for successful machine vision and auto ID applications. Available In Three Colors & Infrared Large Area Backlight illuminators provide sharp contrast to outline a part's shape, nd edges and view openings such as drilled holes. High intensity and uniformity are packed into a lowprole industrial package for optimal thermal management. Models for continous or strobe duty cycles to support static or high speed applications. Backlight: At a Glance • Variety of colors and wavelegths for both continuous and strobed power sources • High level of uniformity for repeatable results • M12 connectors for easy connections to drivers or advanced controllers • Low profile, compact shape for flexible integration Illumination Example: Object Resulting Image Application Examples •Locate or measure outside dimensions •View openings (e.g., drilled holes) •Diminsh clear glass or plastic housings •Measure thickness of materials •Locate mounting holes •Measure translucency •Diffuse incident (front) lighting Light bulb: Resulting image clearly shows silhouette of filament inside the bulb. For more information on this product, visit www.microscan.com.
Open the catalog to page 1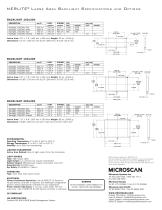 NERLITE ® L ARGE A REA B ACKLIGHT S PECIFICATIONS Backlight, 100x200, Red Backlight, 100x200, White Backlight, 100x200, Blue Backlight, 100x200, Infrared Active Area: 3.9" x 7.9" (100 mm x 200 mm) Weight: 39 oz. (1100 g) Dimensions: H 4.72" (120 mm) x W 10.24" (260 mm) x D 0.93" (23.5 mm) Backlight, 150x200, Red Backlight, 150x200, White Backlight, 150x200, Blue Backlight, 150x200, Infrared Active Area: 5.9" x 7.9" (150 mm x 200 mm) Weight: 53 oz. (1500 g) Dimensions: H 6.69" (170 mm) x W 10.24" (260 mm) x D 0.93" (23.5 mm) Backlight, 200x250, Red Backlight, 200x250, White Backlight,...
Open the catalog to page 2
All Microscan Systems catalogs and technical brochures

Archived catalogs
Compare up to 10 products