Catalogs

>

IB-890
Catalog excerpts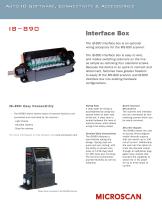 Interface Box The IB-890 interface box is an optional wiring accessory for the MS-890 scanner. The IB-890 interface box is easy to wire, and makes switching scanners on the line as simple as removing four standard screws. Because the device is so quick to connect and disconnect, factories have greater freedom to easily fit the MS-890 scanner and IB-890 interface box into existing hardware configurations. IB–890: Easy Connectivity • The IB-890 allows several types of external devices to be connected and controlled by the scanner: - Light stacks - Handled readers - Stop-line devices For more information on this product, visit www.microscan.com. Shown here connected to the MS-890 Scanner Wiring Path A clean path for wiring is accomplished by using four access holes on each side of the box. A clear zone is located between the rows of terminal strips, which allows wiring to be easily routed. Terminal Strip Connectivity The IB-890 features a user-friendly spring clip design. Spring clips are quick and very strong, with the ability to accept wire sizes of 14-28 Awg rated for 250 Volts and 13 Amps. The terminal connections provide flexibility as well as reliability. Quick Scanner Disconnect The scanner and interface box are connected by four retaining screws which can be easily removed. Discrete Ouputs The IB-890 allows the user to access three programmable discrete outputs that can switch up to 100 mA of current. Additionally, the user has the option to route the discrete output through an additional pluggable relay module that provides the capability to switch AC or DC power for up to three amps of current.
Open the catalog to page 1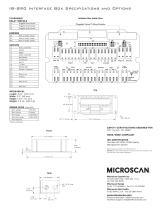 IB-B9D INTERFACE BOX SPECIFICATIONS AND DPTIDNS RELAY MODULE Pluggable Relay Module Pluggable Relay Module Pluggable Relay Module Relay 1 Output Jumper Relay 2 Output Jumper Relay 3 Output Jumper Scanner Connector SPRING CLIPS (Type 605) Wire Range Wire Strip Length Wire Retention Interface Box Inside View Pluggable Series 70 Relay Modules Newmaster Trigger ( Reverse Polarity/ SAFETY CERTIFICATIONS DESIGNED FOR ROHS/WEEE COMPLIANT Management System Warranty-One year limited warranty on parts and labor. Free extended 3 year warranty upon online product regstration Microscan Europe Microscan...
Open the catalog to page 2
All Microscan Systems catalogs and technical brochures

Archived catalogs
Compare up to 10 products