Catalogs

>

Dome Illuminators
Catalog excerpts
N E RL IT E ® Do m e Uniform Lighting Solution Microscan's wide range of NERLITE products can illuminate any part or mark for successful machine vision and auto ID applications. Dome illuminators are an economical source of diffused, uniform light. Their large, solid angle of illumination supports imaging of curved, shiny or bumpy surfaces. They are a cost-effective alternative to NERLITE CDI illuminators for applications not requiring an on-axis lighting component. Dome: At a Glance • Economical and widely-used general purpose designs • Easily integrated • Continuous or strobed diffused LED illumination Illumination Example: Object Resulting Image Application Examples •Illuminate diffused or specular, flat or curved surfaces •CD/DVD label inspection •Inspection of surfaces for contaminants (particles, residues) Bottom of aerosol can: Uniform illumination of concave surface results in contrast against printed characters. For more information on this product, visit www.microscan.com.
Open the catalog to page 1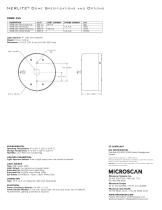 DESCRIPTION DOME-150, Red Continuous DOME-150, Red Strobe DOME-150, White Continuous DOME-150, White Strobe nm/K CONT. CURRENT STROBE CURRENT 636 nm 80 mA 636 nm 1.6 A pk 6500 K 160 mA 6500 K 3.2 A pk Light Aperture: 4" (102 mm) diameter Weight: 18 oz. (510 g) Dimensions: ∅ 6.19" (157.3 mm) x D 3.28" (83.3 mm) Operating Temperature: 0° to 40° C (32° to 104° F) Storage Temperature: 0° to 50° C (32° to 122° F) Humidity: up to 95% (non-condensing) LIGHTING PARAMETERS Light Aperture Defined: Area of light output from the coaxial illuminator. LIGHT SOURCE Type: High output LEDs Light Output: Lux...
Open the catalog to page 2
All Microscan Systems catalogs and technical brochures

Archived catalogs
Compare up to 10 products