Catalogs

>

CDI® Illuminators
Catalog excerpts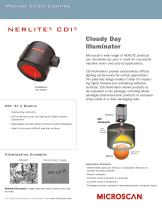 N E RL IT E ® C D I ® Cloudy Day Illuminator Microscan's wide range of NERLITE products can illuminate any part or mark for successful machine vision and auto ID applications. CDI illuminators provide extraordinary diffuse lighting performance for critical applications. The patented design makes it ideal for inspecting highly faceted and undulating reflective surfaces. CDI illumination allows products to be inspected in the package, including blisterpackaged pharmaceutical products or computer chips inside of a clear packaging tube. CDI: At a Glance • Outstanding uniformity • Self-contained cloudy day lighting for highly complex applications • Makes glass and clear plastic container surfaces disappear • Ideal for extremely difficult specular surfaces Illumination Example: Object Resulting Image Application Examples •Differentiate specular, diffuse, or absorptive features on bumpy/wrinkled surfaces •Reduce shadows •Diminish clear overcoats or coverings •CD/DVD artwork verification •Packaged product inspection (pharmaceuticals, computer chips) Wrinkled foil pouch: Image captured clearly shows date and lot code. For more information on this product, visit www.microscan.com.
Open the catalog to page 1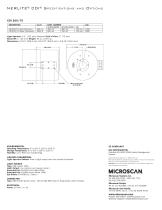 CDI 200/75 DESCRIPTION CDI-200/75, Red Continuous CDI-200/75, White Continuous CONT. CURRENT Light Aperture: 5.2" (132 mm) diameter Field of View: 3" (75 mm) Stand Off: 1" (25 mm) Weight: 56 oz. (1597 g) Dimensions: H 8.12" (206.3 mm) x W 9.78" (248.5 mm) x D 6.16" (156.4 mm) Operating Temperature: 0° to 40° C (32° to 104° F) Storage Temperature: 0° to 50° C (32° to 122° F) Humidity: up to 95% (non-condensing) LIGHTING PARAMETERS Light Aperture Defined: Area of light output from the coaxial illuminator. LIGHT SOURCE Type: High output LEDs Light Output: Lux (lumens per square meter) Expected...
Open the catalog to page 2
All Microscan Systems catalogs and technical brochures

Archived catalogs
Compare up to 10 products