Catalogs

>

5 Steps to Optimize Calibration Efforts
Catalog excerpts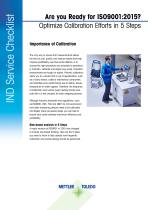 Are you Ready for ISO9001:2015? Optimize Calibration Efforts in 5 Steps Importance of Calibration The only way to ensure that measurements deliver the kind of cost, quality and revenue results that help improve profitability over their entire lifetime, is to choose the right procedure and schedule to periodically maintain, calibrate and adjust your scale. Industrial environments are tough on scales. Periodic calibration alerts you to a device that is out of specification, such as a faulty sensor, cable or mechanical component, and identifies poor performance due to debris, abuse, temperature or water ingress. Therefore, the frequency of calibration and routine (user) testing should coincide with a a risk analysis for each weighing process. Although industry standards and regulations, such as ISO9001, BRC, FDA and GMP, do not recommend how often measuring devices need to be calibrated and tested, there are several steps you can take to ensure your scale achieves maximum efficiency and profitability. Risk-based analysis in 5 Steps A major revision of ISO9001 in 2015 has changed to include risk-based thinking. Here are the 5 steps you need to know to help assess how frequently calibration and routine testing should be performed:
Open the catalog to page 1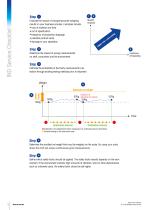 Severity (Impact) Evaluate the impact of wrong/inaccurate weighing results on your business process. Examples include: • loss of material and time • out of specification • frequency of production stoppage • potential product recall • damage to your reputation Determine the impact of wrong measurements on staff, consumers and the environment. Likelihood (Probability) Estimate the probability of the faulty measurement's detection through existing testing methods prior to shipment. Safety Factor Calibration & Adjustment (by service) Time Calibration Interval Calibration Interval Calibration...
Open the catalog to page 2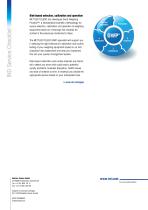 Risk-based selection, calibration and operation METTLER TOLEDO has developed Good Weighing Practice™, a standardized scientific methodology for secure selection, calibration and operation of weighing equipment based on a thorough risk analysis described in the previously mentioned 5 steps. The METTLER TOLEDO GWP specialist will support you in defining the right intervals for calibration and routine testing of your weighing equipment based on an individualized risk-assessment and help you implement this into your quality management system. Risk-based calibration and routine intervals are...
Open the catalog to page 3
All METTLER TOLEDO catalogs and technical brochures

Compare up to 10 products