Catalogs

>

VERTIMILL® Lime Slaker Technical Sheet and Questionnaire
Catalog excerpts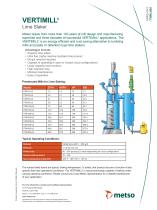 VERTIMILL® Lime Slaker Metso draws from more than 100 years of mill design and manufacturing expertise and three decades of successful VERTIMILL® applications. The VERTIMILL® is an energy efficient and cost saving alternative to tumbling mills and paste or detention type lime slakers. Advantages include: • Superior lime slaker • Ultra fine, highly reactive hydrated lime product • No grit removal required • Capable of operating in open or closed circuit configurations • Large capacity and turndown • High retention time • Minimal maintenance • Ease of operation Preselected Mills for Lime Slaking: The values listed above are typical; slaking temperature, % solids, and product size are a function of site specific feed and operational conditions. The VERTIMILL® is robust technology capable of slaking under varying operating conditions. Please consult your local Metso representative for a detailed assessment of your application. For more information, contact your local Metso representative. 2715 Pleasant Valley Road York, PA , USA 17402 Direct: +1 717 843 8671 | Fax: +1 717 845 5154 www.metso.com Specifications in this document are subject to change without notice. Product names in this publication are all trademarks of Metso Corporation.
Open the catalog to page 1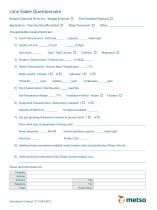 Lime Slaker Questionnaire Require Data and Prices for: Budget Estimate o Application: Flue Gas Desulfurization o Firm Detailed Proposal o The applicable requirements are: 1) Feed Characteristics: Feed Size       2) Quality of Lime:       % CaO Size of grit    Capacity       mtph/stph       % MgO Type: High Calcium o 3) Product Characteristics: Product Size       % Solids       4) Water Characteristics: Process Water Temperature       ° F/C Water Quality: Potable Y o Chlorides        ppm 5) Site Characteristics: Site Elevation       masl/fasl Site Temperature Range      ° F/C Installation...
Open the catalog to page 2
All Metso Corporation catalogs and technical brochures

Compare up to 10 products