Catalogs

>

Nordberg® NP13 & NP15 Impact Crusher Brochure
Catalog excerpts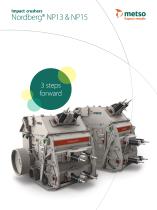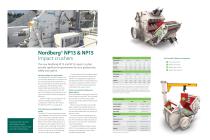 Nordberg® NP13 & NP15 Impact crushers The new Nordberg NP13 and NP15 impact crushers provide significant improvements for your productivity, safety and uptime. Nordberg NP13 & NP15 offer Metso's latest innovations for quick, easy and safe maintenance. More throughput, less recirculation The Nordberg NP13 and NP15 impact crushers have been designed in an innovative way that increases feed material penetration to the rotor. Especially for secondary and tertiary applications, the optimized, steeper design enables greater benefits, as the discharge curve is less sensitive to blow bar wear. This...
Open the catalog to page 2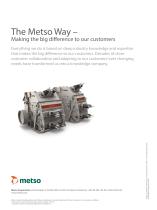 Making the big difference to our customers Everything we do is based on deep industry knowledge and expertise that makes the big difference to our customers. Decades of close customer collaboration and adapting to our customers' ever changing needs have transformed us into a knowledge company. Metso Corporation, Lokomonkatu 3, P.O.Box 306, FI-33101 Tampere, Finland, tel. +358 20 484 142, fax +358 20 484 143 www.metso.com Metso, Lokotrack, Nordberg, Barmac and, Trellex are trademarks or registered trademarks of Metso Corporation or its subsidiaries or affiliates. *Other names and brands may...
Open the catalog to page 3
All Metso Corporation catalogs and technical brochures

Compare up to 10 products