Catalogs

>

Nordberg® C130™ Jaw Crusher Brochure
Catalog excerpts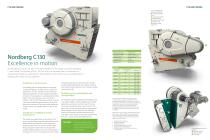 The Nordberg C130 jaw crusher is the latest addition to the highly successful Nordberg C series range. At the heart of the C130, lies over one hundred years of dedication to engineering excellence, dedication to outstanding crusher performance and dedication to satisfying the needs of our customers. Excellence in performance Incorporating the same design features as the highly successful Nordberg C120 and C150 jaw crushers, the performance of C130 is excellent in both mobile and stationary applications. A small nip angle and excellent kinematics ensures aggressive crushing along the...
Open the catalog to page 2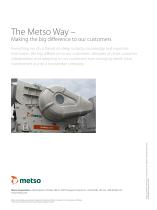 Making the big difference to our customers Everything we do is based on deep industry knowledge and expertise that makes the big difference to our customers. Decades of close customer collaboration and adapting to our customers' ever changing needs have transformed us into a knowledge company. Metso Corporation, Lokomonkatu 3, P.O.Box 306, FI-33101 Tampere, Finland, tel. +358 20 484 142, fax +358 20 484 143 www.metso.com Metso and Nordberg are trademarks or registered trademarks of Metso Corporation or its subsidiaries or affiliates. *Other names and brands may be claimed as the property of...
Open the catalog to page 3
All Metso Corporation catalogs and technical brochures

Compare up to 10 products