Catalogs

>

Metso UltraFine Screen (UFS) Brochure
Catalog excerpts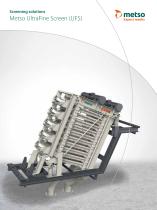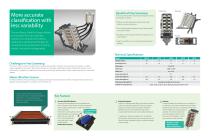 More accurate classification with less variability The new Metso UltraFine Screen delivers an innovative fine wet screening solution that complements Metso's existing fine grinding technologies for mineral processing industries including metallic, industrial, and aggregates. Benefits of Fine Screening Fine wet screening offers several key advantages to existing technologies, including: • Modular concept allowing for multiple screen deck options and easy maintenance. • Two-way feed splitter designed to evenly distribute feed across pairs of decks. • Double the screening area of the Derrick...
Open the catalog to page 2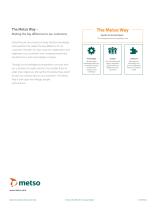 The Metso Way -Making the big difference to our customers Everything we do is based on deep industry knowledge and expertise that makes the big difference to our customers. Decades of close customer collaboration and adapting to our customers' ever changing needs have transformed us into a knowledge company. Through our knowledge and experience, we work with our customers to create solutions that enable them to attain their objectives. We call this The Metso Way, which focuses on creating value to our customers. The Metso Way is built upon knowledge, people and solutions. The Metso Way...
Open the catalog to page 3
All Metso Corporation catalogs and technical brochures

Compare up to 10 products