Catalogs

>

Remote Charge Converters
Catalog excerpts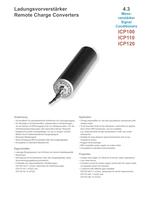 Ladungsvorverstarker 4.3 Remote Charge Converters Mess" verstarker Signal Conditioners ICP100 ICP110 ICP120 Anwendung Vorverstarker fur piezoelektrische Aufnehmer mit Ladungsausgang Օ Zur Montage in Aufnehmernahe, insbesondere in Anwendungen, wo ein Sensor mit EPE-Ausgang nicht zur Verfugung steht, z.B. bei Hochtemperaturmessungen oder besonders kleinen Sensoren Geeignet fur groGe Leitungslangen von bis zu einigen hundert Metern durch niederimpedantes Ausgangssignal Օ Robustes Miniaturgerat Stromversorgung lEPE-kompatibel uber das Ausgangskabel Օ Kompatibel zu Standard-Messtechnik Eigenschaften Ladungs-Eingangsstufe, kein Einfluss der Sensor-Kabelkapazitat Օ Rauscharm Versorgung mit Konstantstrom uber das Ausgangskabel, keine Stromversorgungsleitung erforderlich Օ 3 Modelle mit unterschiedlichen Verstarkungen: ICP100 mit 0,1 mV/pC, besonders fur StoGmessungen, ICP110 mit 1 mV/pC und ICP120 mit 10 mV/pC. Application Charge preamplifier for use with piezoelectric transducers with charge output Օ To be mounted close to the transducer, particularly for applications where IEPE transducers are not available, e.g. measurements at high temperature or with very small transducers ͕ Suitable for long distance signal transmission due to low impedance output Rugged small package Օ IEPE compatible power supply via output cable Compatible to standard instrumentation Properties Օ Charge input stage, no influence of sensor cable capacitance Low noise device Օ Constant current for power supply carried with the output cable, no separate power line required 3 versions with different gain available: ICP100 with 0.1 mV/pC, particularly for shock measurement, ICP110 with 1 mV/pC and ICP120 with 10 mV/pC.
Open the catalog to page 1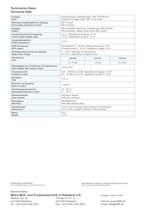 Technische Daten Technical Data Eingang Input Ladungseingang, massebezogen, UNF 10-32-Buchse Charge input, single ended, UNF 10-32 socket Uberspannungsfestigkeit am Eingang Overvoltage resistance at input 500 V Impuls 500 V impulse Ausgang Output IEPE-kompatibel, Spannung, massebezogen, BNC-Buchse IEPE compatible, voltage, single ended, BNC socket Aussteuerbarkeit des Ausgangs Linear output voltage range > 6 VSS, Kapazitat am Ausgang < 10 nF > 6 VPP, capacitance at output < 10 nF Ausgangsimpedanz Output impedance < 50 n IEPE-Versorgung IEPE supply Konstantstrom 4 .. 20 mA,...
Open the catalog to page 2
All Metra Mess- und Frequenztechnik in Radebeul e.K. catalogs and technical brochures

Archived catalogs

Compare up to 10 products