Catalogs

>

MCR INNOVATIONS
Catalog excerpts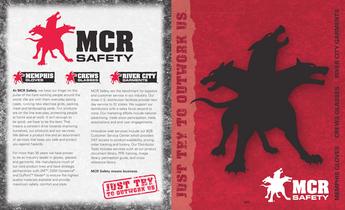 CREWS GLASSES RIVER CITY GARMENTS For more than 35 years we have proven to be an industry leader in gloves, glasses and garments. We manufacture much of our core product lines and have strategic partnerships with 3MTM, DSM Dyneema® and DuPontTM Kevlar® to ensure the highest quality materials available and provide maximum safety, comfort and style. MCR Safety set the benchmark for logistics and customer service in our industry. Our three U.S. distribution facilities provide next day service to 32 states. We support our distributors with a sales force second to none. Our marketing efforts include national advertising, trade show participation, trade associations and end user engagements. Innovative web services include our B2B Customer Service Center which provides 24/7 access to product availability, pricing, order tracking and history. Our Distributor Tools includes services such as our product document library, PPE training, image library, permeation guide, and cross reference library. MEMPHIS GLOVES At MCR Safety, we have our finger on the pulse of the hard working people around the world. We are with them everyday paving roads, running new electrical grids, packing meat and landscaping yards. Our products are on the line everyday, protecting people at home and at work. It isn't enough to be good, we have to be the best. That means a constant drive towards improving ourselves, our products and our services. We deliver a product line and an assortment of services that keep you safe and protect you against hazards. MCR Safety means business.
Open the catalog to page 1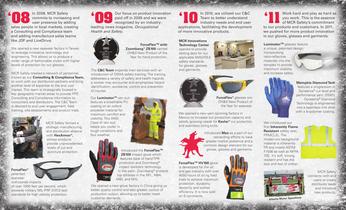 In 2008, MCR Safety commits to increasing end user presence by adding sales people in local markets, creating a Consulting and Compliance team and adding manufacture sales teams like JDF and LineDrive. We opened a new eyewear factory in Taiwan to leverage innovative technology and engineering. This allows us to produce a wider range of fashionable styles with higher levels of protection for our glasses. MCR Safety created a network of personnel, known as our Consulting & Compliance Team, to work with our distribution partners and bring another level of expertise to the end user market. This...
Open the catalog to page 2
All MCR Safety catalogs and technical brochures

Archived catalogs

Compare up to 10 products