Catalogs

>

ZL- 400 Series Water-Based, Water-Washable Fluorescent Penetrants
Catalog excerpts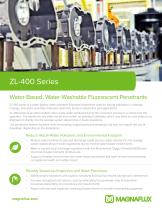 ZL-400 Series Water-Based, Water-Washable Fluorescent Penetrants ZL-400 series is a water-based, water washable fluorescent penetrant used for finding indications in castings, forgings, extrusions and other materials commonly found in automotive part applications. ZL-400 series is an ideal solution when waste water produced during the inspection process is a concern for the operation. The penetrants are water based and contain no petroleum distillates which may allow its rinse water to be disposed of directly into the sewage system depending on local regulations. The penetrants feature excellent rinse removability, bright fluorescent sensitivity and may not require the use of developer depending on the application. Reduce Waste-Water Pollutants and Environmental Footprint • Reduce water treatment costs and discharge waste process water directly into the sewage system (depending on local regulations) due to minimal water-based contaminants. Meet or exceed local discharge regulations with low Biochemical Oxygen Demand (BOD) and Chemical Oxygen Demand (COD) levels. Support a healthy environment with water-based penetrants that have minimal environmental, occupational health and safety impact. Reliably Speed Up Inspection and Wash Processes • Identify bright indications with superior sensitivity and low fluorescent background interference. Increase throughput and reduce costs by eliminating the developer step of inspection processes depending on procedures and requirements. Rapid rinse and post inspection washing of parts thanks to excellent washability properties.
Open the catalog to page 1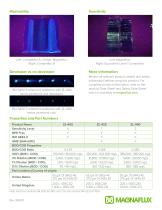 Left: Competitor A; Center: Magnaflux; Right: Competitor B ISO 3452-3 reference testblock with ZL-400 series penetrant and developer. Left: Magnaflux; Right: Equivalent Level 1 Competitor More information Review all relevant product details and safety information before using this product. For complete product information, refer to the product Data Sheet and Safety Data Sheet, which is available at magnaflux.com. ISO 3452-3 reference testblock with ZL-400 series penetrant only. Properties and Part Numbers Product Name ZL-405 Sensitivity Level ½ NPE Free  ISO 3452-2  AMS 2644 (QPL) BOD/COD...
Open the catalog to page 2
All Magnaflux catalogs and technical brochures

Compare up to 10 products