Catalogs

>

Proxidrive
Catalog excerpts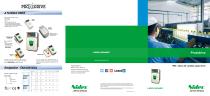 Easy access to operator functions - Run forward - Run reverse - Stop - User friendly potentiometer - Can be combined with remote signal - Programmable key and potentiometer - Access to advanced parameters by PX-LCD keypad or PC tools Local control Residential EMC compliance Optional IP 66 RFI filter : - to comply with EMC residential level - for 5.5 and 7.5 kW proXidrive A lockable IP 65 power switch connectable upstream or down stream from the drive and located on the right or the left of PRO IDRIVE is offered as an option For more elaborate system, LEROY-SOMER offer on request a pre-wired IP 66 Nema 4X control wich incorporates all the necessary components for the application Designation - Characteristics Example of catalogue number : PX 5,5 T SET SET : Basic product CP : Local command Code P motor (kW) Code IN (A) H (mm) W (mm) D (mm) Weight (kg) IP66 - Nema 4X variable speed drive © 2017 Moteurs Leroy-Somer SAS. The information contained in this brochure is for guidance only and does not form part of any contract. The accuracy cannot be guaranteed as Moteurs Leroy-Somer SAS have an ongoing process of development and reserve the right to change the specification of their products without notice. Moteurs Leroy-Somer SAS. Headquarters: Bd Marcellin Leroy, CS 10015, 16915 Angouleme Cedex 9, France. Share Capital: 65 800 512 €, RCS Angouleme 338 567 258.
Open the catalog to page 1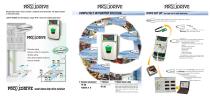 Decentralise drives "next to motors", whatever the environment. The latest solution to industrial needs. COMPLETELY INTEGRATED SOLUTION LEROY-SOMER has developed a unique IP 66 - Nema 4X variable speed drive. DRIVE SET UP : the right tool for each application EMC compliance • Built-in RFI filter as standard up to 4 kW • Complies to EN 50081-2 generic emissions standard with 5m motor cable • Earth leakage current < 3mA Parameter settings programmed at the factory combined with auto-tuning allows immediate starting in most applications Numerous PLC function blocks allowing machine automation...
Open the catalog to page 2
All LEROY-SOMER catalogs and technical brochures

Compare up to 10 products