Catalogs

>

LEMO

>

MULTISHACK3X: FROM MULTIPLE SMPTE CABLES TO A SINGLE MULTIWAY FIBRE CABLE
Catalog excerpts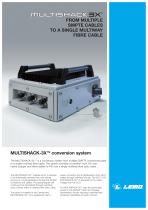 FROM MULTIPLE SMPTE CABLES TO A SINGLE MULTIWAY FIBRE CABLE MULTISHACK-3X TM conversion system The MULTISHACK-3X TM is a conversion system from multiple SMPTE connectors/cable to a single multiway fibre cable. The system provides a transition from HD over hybrid (copper and fibre) cables to HD over a single multiway fibre optic cable. The MULTISHACK-3X TM enables up to 3 cameras to be individually powered from one remote source (i.e. a local generator) through the 3K.93C connectors and cables. The optical signals will continue to be transmitted through individual pairs of fibres within a multiway fibre optic cable. The power is inserted at the Camera end MULTISHACK-3X TM via a waterproof mains / power connector and is distributed to the hybrid cables through individual circuits. The CCU / OB MULTISHACK-3X TM is powered by the output voltage from the CCU. The MULTISHACK-3X TM uses the technology proven in the SHACK TM and has individual transmission circuits ensuring a manufacturer protection handshake for each channel.
Open the catalog to page 1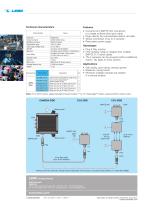 Technical characteristics Fibre type Hybrid connector Multifibre connector Temperature range CCU supply voltage range EMI/RFI Electrical Singlemode LEMO 3K.93C Series LEMO 4K Series -20°C to +60°C 15 V to 360 V Complies with 89/336/EEC Complies with EN 61000-6-1, EN61000-6-2 Complies with Class 1 laser product 24 CFR 1040.10 & 1040.11 Up to 95% 5 years Better than 45 dB per channel 0.4 dB per channel 17 kg Laser Safety Humidity range Warranty Return loss Average insertion loss Weight Part number Camera end/for GrassValley™ model/3 way CCU end / for Grass Valley™ camera model / 3 way Break...
Open the catalog to page 2
All LEMO catalogs and technical brochures

Archived catalogs

Compare up to 10 products