Catalogs

>

Leica Viva GS25 Data Sheet
Catalog excerpts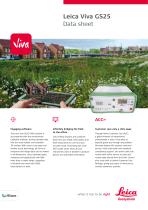 Leica Viva GS25 Data sheet Engaging software The Leica Viva GS25 GNSS receiver is accompanied with the revolutionary Captivate software, turning complex data into the most realistic and workable 3D models. With easy-to-use apps and familiar touch technology, all forms of measured and design data can be viewed in all dimensions. Leica Captivate spans industries and applications with little more than a simple swipe, regardless of whether you work with GNSS, total stations or both. Infinitely bridging the field to the office Leica Infinity imports and combines data from your GNSS, total station and level instruments for one final and accurate result. Processing has never been made easier when all your instruments work in tandem to produce precise and actionable information. Customer care only a click away Through Active Customer Care (ACC), a global network of experienced professionals is only a click away to expertly guide you through any problem. Eliminate delays with superior technical service, finish jobs faster with excellent consultancy support, and avoid costly site revisits with online service to send and receive data directly from the field. Control your costs with a tailored Customer Care Package, giving you peace of mind you're covered anywhere, anytime.
Open the catalog to page 1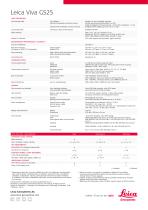 Leica Viva GS25 GNSS TECHNOLOGY Self-learning GNSS Leica RTKplus SmartLink (worldwide correction service) SmartLink fill (worldwide correction service) Continuous check of RTK solution Leica SmartCheck Adaptive on-the-fly satellite selection Remote precise point positioning (3 cm 2D)1 Initial convergance to full accuracy 20 - 40 min, Re-convergance < 1 min Bridging of RTK outages up to 10 min (3 cm 2D)1 Reliability 99.99% Signal tracking Number of channels MEASUREMENT PERFORMANCE & ACCURACY 555 (more signals, fast acquisition, high sensitivity) 1 Real-time kinematic (Compliant to ISO17123-8...
Open the catalog to page 2
All Leica Geosystems catalogs and technical brochures

Archived catalogs

Compare up to 10 products